No melamine has been found in Vietnamese seafood so far, a senior government official has confirmed.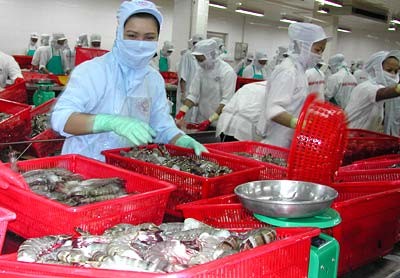 Processing shrimps for export at a factory in Viet Nam (Photo:www.tcck.vn)
Nguyen Nhu Tiep, deputy head of the National Agro-Forestry and Fisheries Quality Assurance Department, under the Ministry of Agriculture and Rural Development, was responding yesterday to reports that aquaculture feed samples in the Mekong Delta contained melamine.
Speaking to the press, Tiep said that by the end of September, before melamine contamination was found in milk products, agencies concerned had discovered one to two batches of Chinese-made fish meal for use as feed in aquaculture was tainted with melamine.
Since October 22, an investigation has been conducted into this case and the test results indicated that this fish meal contained melamine at 100 ppm. 
But because of a part of the feed had been used to feed fish, the department took fish samples to test for melamine. Test results showed that all of 15 fish samples taken from ponds and 10 samples picked out from processed fish contained no melamine.
"When fish, as well as poultry, are fed with melamine-contaminated food, they will only suffer from urinary problems, and the accumulation of this chemical in their body is very low, except when the fish are fed for a long time with food containing a very high content of melamine," Tiep explained.
The department has notified the Vietnam Feed Association of the results. It has also required relevant agencies at all border gates to tighten up quality control on feed imported from China, to ensure that only certified non-contaminated products are imported into Viet Nam.
Chinese seafood with melamine found in HCM City

240 tons of seafood imported from China by two companies based in HCM City have been found contaminated with melamine, said Mr. Dang Ai Viet, head of the Ho Chi Minh City Sub-Department of Quality Management and Fisheries Resource Protection.

The average content of melamine found in the seafood was 0.76 percent at one company and 1.4 percent at the other. In addition, they also had contained a starch content of 20%.

The Sub-Department has sealed all the products for further investigation.