HA NOI (VNS) — Deputy Prime Minister Nguyen Xuan Phuc said yesterday all ministries, sectors and agencies had been told to stay focused on socio-economic tasks despite any ill effects from China's East Sea actions.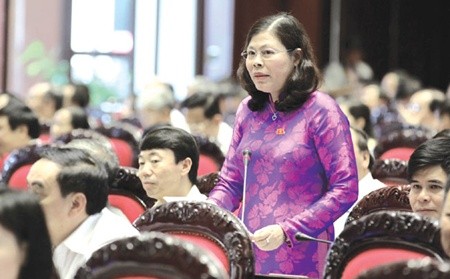 NA deputy Le Thi Yen from northern Phu Tho Province delivers her questions to members of the Government yesterday morning in a Q&A session at the 13th National Assembly. — VNA/VNS Photo An Dang
In a report presented to the National Assembly before his answer-and-question session, the deputy PM said the macro-economy in the first five months had been stabilised.
He said the Consumer Price Index had risen an average of 1.08 per cent, the lowest level in 10 years.
State budget collection had reached 45.8 per cent of the planned amount plan for the year and 620,000 jobs had been created in the first five months.
Phuc said the Government would also instruct all ministries and agencies to develop short and long-term plans keeping a close eye on the East Sea situation, especially in areas closely associated with China, such as exports and imports, energy projects and tourism.
Phuc said the Vietnamese economy must be restructured to be competitive, and that the nation should diversify its investment sources and markets.
Answering NA members' concerns about some foreign businesses losing confidence, the deputy PM said the recent riots were quickly brought under control.
He added that the Government was committed to preventing future incidents and punishing those who headed the riots.
He said Viet Nam would do all to ensure that it remained a peaceful destination for tourists, foreign investors.
Phuc said recent months had shown that the world was on Viet Nam's side and supported its stand to protect sovereignty.
At the morning session, Inspector General Huynh Phong Tranh was questioned on the effectiveness of a regulation that public officials must publicly list their assets and property.
Tranh said after six years of implementation, more public officials had been asked to conform.
In 2013, 97 per cent of 200,000 individual reports on officials were publicly announced, an increase of 38 per cent over the previous year. Inspectors also discovered another 3,000 State workers who did not follow regulations on listing their assets.
Tranh said assessments of assets and property enabled Government agencies monitor to find out how it had been acquired.
NA members also expressed concerns that despite inspectors ordering large amounts of money or land to be revoked in some cases, little was said later, especially in major corruption cases.
Tranh agreed, saying that in 2008-11, only 30 per cent of the money and 20 per cent of the land that had to be handed over actually was.
The head inspector also acknowledged there were many difficulties in revoking asset after announcements, saying that inspectors often had their hands tied.
He suggested the Government consider issuing a regulation to freeze assets and property if necessary.
Continuing his session from the previous day, Justice Minister Ha Hung Cuong reaffirmed the sector's effort to reduce the number of unsettled civil lawsuits and co-ordinate with other agencies and ministries in solving major cases in hot-spots such as Ha Noi, HCM City, Tay Ninh Province, Dong Nai Province.
He said there were often difficulties in seizing the property of those involved in major corruption cases, adding that the main obstacle had been co-ordinating agencies, such as those implementing civil lawsuits and prosecuting offices.
Cuong said corruption could be added into the amended Criminal Code for those unable to prove the sources of their property, including those in the private sector.
In relation to the issuing of legal documents that were contrary to law, he said that since 2011, 312 out of 1,500 legal documents inspected had been found to fit into this category, in addition to others that were impractical and caused public uproar.
NA Chairman Nguyen Sinh Hung said the number was too high, adding that all related agencies and the NA bodies related to legal affairs must bear responsibility for letting that happen