New polymer VND10,000 and VND200,000 currency notes will be put in use on August 30, the State Bank of Vietnam (SBV) announced Tuesday.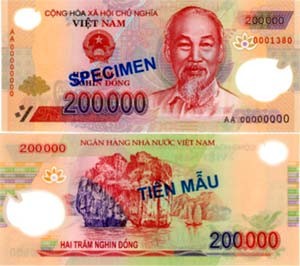 The two sides of a polymer VND200,000 note
It will be the first time in Viet Nam that VND200,000 notes are issued, while VND10,000 paper notes have been in circulation for many years. The VND10,000 paper notes will remain legal tender together with the new bills.
SBV has so far issued polymer notes in four other denominations: VND500,000, VND100,000, VND50,000, and VND20,000.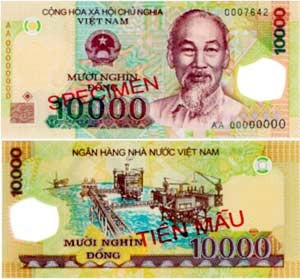 The two sides of a polymer VND10,000 note
As for the reason to issue VND200,000 notes, Mr. Nguyen Van Toan, a SBV official in charge of banknote issuance, told the Sai Gon Giai Phong newspaper that these new banknotes would bring about more convenience.
Regarding public concern about possible inflation as new notes are issued, he said this worry is just a misunderstanding.
"The new issuances only mean more kinds of banknote for use and do not change the total value of bills SBV issues. Instead of issuing ten VND100,000 notes, five VND200,000 notes will be issued," he said.