Director of the gender equality department under the labour, invalids and social affairs ministry Pham Ngoc Tien yesterday said women's participation in the political sector was still low.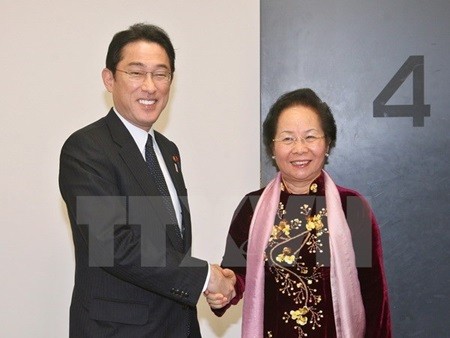 Vietnamese Vice President Nguyen Thi Doan meets with Japanese Foreign Minister Fumio Kishida at a global conference in Japan earlier this month. — VNA/VNS Photo Thong Nhat
In a meeting held to promote gender equality in political participation in Ha Noi, Tien said the rate of Vietnamese women's participation in the political system was low compared to the country's level of socio-economic development.
In the 2011-16 period, 24.4 per cent of the National Assembly members were women, while it was nine per cent in the Party Central Committee, and 11.37, 15.01 and 18.1 per cent in the provincial, district and communal administrations respectively.
Tien said one of the main reasons for the low participation of women in the political sector was low awareness of gender equality among some leaders of authorities at different levels, especially in rural and mountainous areas.
Plans and policies about giving training to women officials did not receive proper attention.
Tien said some small sections of women also had feelings of inferiority and did not strive their best to become leaders.
Moreover, education on gender equality and the important role of women in the political sector was not effective.
Deputy Director of the Centre for Education Promotion and Empowerment of Women (CEPEW) Ngo Thu Ha said, "Few women have real power in decision making and few take key positions," and blamed the problem on regulations about retirement age and also on lack of regulations about women's candidacy for future leadership posts.
Moreover, organisations were yet to consult the Women's Union about how to get more women involved.
Ha said traditionally, women were saddled with the responsibilities of both family and work, making it especially hard for them to get politically involved.
Tien proposed communication activities as an important measure to promote gender equality in politics, spreading information about the Law on Gender Equality to raise people's awareness on the issue and inclusion of policies on gender equality in socio-economic programmes in localities.
The country aims to fill at least 25 per cent of the posts in party committees at all levels and 35 to 40 per cent of the seats in the National Assembly with women by 2020. State and government agencies aim to help women occupy at least 30 per cent of key leadership positions.
"It's quite an ambitious target, requiring breakthrough actions starting now," Tien said.