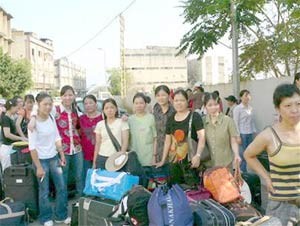 Vietnamese workers prepare to leave Beirut, Lebanon (Photo: Tuoi Tre)
"Vietnam Airlines (VNA) is willing to do its utmost to repatriate Vietnamese workers in Lebanon." VNA Spokesman Nguyen Tan Chan told to Sai Gon Giai Phong's reporter.
"Currently the representative office of VNA in Bangkok, teamed up with the International Organization for Migration (IOM) and the Vietnamese embassy in Thailand, has provided its soonest flights to Ha Noi and Ho Chi Minh City for those who had been evacuated from Lebanon to Syria", said Mr. Chan.
In case of lacking regular flights from Thailand to Viet Nam, VNA will operate more flights to help those Vietnamese laborers return to their home, he added.
There are 300 Vietnamese guest workers in Lebanon, most of whom have been working as domestic help for Christian and expatriate families in Beirut. Some others have been employed at hotels and restaurants.
Related articles:

Vietnamese Workers Evacuated from Lebanon
Protect Vietnamese Interests in Lebanon
Viet Nam Mission Arrives in Beirut to Evacuate Vietnamese
PM Requests Repatriation of Vietnamese Citizens in Lebanon
Viet Nam Calls on Citizens to Leave Lebanon