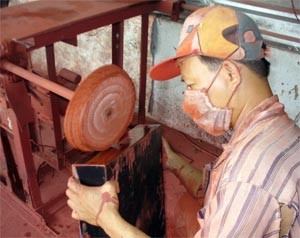 Vietnamese wounded soldier Nguyen Van Xuan, 40, can work at a lacquer factory thanks to the fund's support. (Photo:TK)
A target of VND200 billion has been set to fund the improvement of living conditions for Vietnamese martyrs and wounded soldiers, the Ministry of Labor, invalids, and Social Affairs announced Tuesday in Ha Noi.
The support fund will receive VND10 billion from the Government's central budget with the remaining VND190 billion coming from private donation.
The ministry also laid out its action plan for July 2007, which states that 85 percent of preferential households nationwide will achieve a better standard of living and 85 percent of communes and wards will be recognized as setting good examples of care for martyrs and wounded soldiers.
In addition, the ministry is set to replace all of the poor's temporary houses with strong ones.
On the same day, the ministry also began publicizing the upcoming 60th martyrs and wounded soldiers day (July 27), and launched a contest centering on written works praising their contribution to the nation's development.