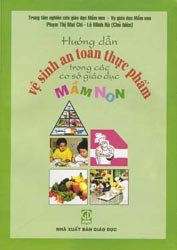 Food Sanitation and Safety Instruction Book for children in schools
The launching ceremony of the Month of Action for Food Sanitation and Safety 2006 opened in Ha Noi on April 8. The event was jointly held by the Ministry of Health and the People's Committee of the capital city of Ha Noi.
Under the theme of "Prevention of Food Contamination", the event is scheduled from April 15 to May 15, aiming at reducing the high rate of mass food poisoning and deaths from these cases.
Besides launching an information dissemination campaign to raise the public awareness of food safety and sanitattion, the Ministry of Health also cooperates with services concerned in organizing 10 teams who will go to inspect sanitory facilities in food production establishments in 30 cities and provinces nationwide, says a representative of the ministry.
In 2006, the State budget will provide totally VND52 billion for food sanitation and safety ensuring activities, an increase of VND6 billion from a year ago.
After the launching ceremony, thousands of youths went on a demonstration with banners and big posters appealing for the Month of Action for Food Sanitation and Safety .