Foreign Ministry Spokesman Le Hai Binh on July 24 stated that the batch of Vietnam's military equipment that has been temporarily seized by Finland is meant to go to Ukraine for repair and maintenance.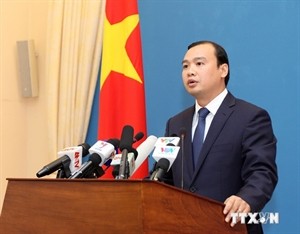 Foreign Ministry Spokesman Le Hai Binh speaks at the press briefing on July 24 (Photo: VNA)
The activity is undertaken under the established defence cooperation between Vietnam and Ukraine, Binh responded to reporters' queries at the ministry's regular press briefing.
He further said that the delivery of the batch is a normal activity in accordance with international law and practice, adding that Vietnamese authorised agencies are working with relevant sides to handle customs procedures in Finland.
Regarding support to victims of the flight MH17 crash, the spokesman said Vietnam's representative agencies are working closely with authorities of Malaysia, Ukraine and the Netherlands to quickly perform related services for the three Vietnamese victims.
At the briefing, reporters raised questions about a case that a Chinese man stabbed five Vietnamese women, killing three and injuring two, in Fangchenggang city, China's Guangxi Zhuang Autonomous Region.
Binh said Vietnam's diplomatic representatives in China are promptly working with local relevant agencies to verify the information, including the victims' identification. They also urged for timely treatment for the injured and an investigation into the case.
Replying to the information that China dredged more than 1.7km of channels around Duy Mong (Drummond) Island within Hoang Sa (Paracel) archipelago, he said Vietnam has, for many times, asserted its undeniable sovereignty over Hoang Sa and Truong Sa (Spratly) archipelagos.
All activities by China in the two archipelagos are illegal and void, Binh stressed.