Vo Van Kiet Street in Can Tho City, a part of a project to build a road  linking Mau Than Street to Tra Noc Airport, opened for traffic on April 26, in the presence of Deputy Prime Minister Vu Van Ninh and Le Hong Anh, permanent member of the Party Secretariat, along with other officials from the city.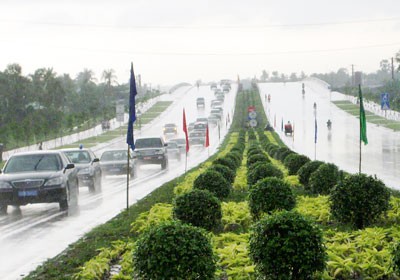 Vo Van Kiet Street in Can Tho City opened for traffic on April 26 (Photo:SGGP)
Vo Van Kiet Street is 26 metres wide and 6,902 metres long, and   designed for traffic of maximum 80km per hour speed. The entire road project cost more than VND1,851 billion (US$88 million) and is being considered the most beautiful street in the city.
In related news, on the same day, the Hanoi Department of Transport inaugurated the first two flyover bridges made from steel beams at Lang Ha-Thai Ha and Chua Boc-Tay Son junctions.

The two fly-over bridges are designed to allow only motorcycles and four-to-seven seater cars to run at a speed of less than 25km per hour and aimed at easing the traffic flow and reducing congestion.
Buses, nine-seater sedans, coaches, trucks, as well as pedestrians and cyclists will not be allowed to use the flyovers.