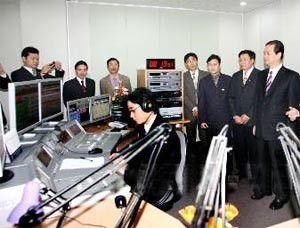 PM Nguyen Tan Dung (R) visits the VOV office.
During a visit to the offices of the Voice of Viet Nam (VOV), Prime Minister Nguyen Tan Dung praised the radio station for its substantial contributions to national achievements in recent years.
Speaking at the working visit, Mr. Dung stressed that over the years, the VOV has done an excellent job of carrying out its mission of disseminating Party guidelines, State policies and Government instructions.
They have provided accurate and up-to date information about the country's policies to every citizen, earning them the honor of being recognized as a special news source of the Party, State and nation.
He particularly praised the VOV's role as a crucial source of information for people affected by last year's devastating flooding and storms in the central region.
Mr. Vu Van Hien, VOV Director General briefed the Prime Minister on major developments within the VOV, saying that, with a total daily airtime of nearly 200 hours, the national radio network is now broadcasting its programs on six channels via SW, MW, FM, satellite and the Internet, covering not only most of Viet Nam but many other regions in the world as well.
Mr. Hien proposed that the Government and the Prime Minister allow VOV to continue restructuring its organization and channels, expand its coverage to all areas, including strategic locations, build a modern transmission control center in Ha Noi's Me Tri area, and establish several more overseas bureaus.
The Prime Minister said VOV broadcasts in 11 foreign and ethnic languages and the web casting of its four major channels testifies to its rapid growth in recent years, helping to bring the VOV to listeners living both inside and outside the country.
"The VOV must continue on a course of strong development so that it will become a national radio network of high repute in both Viet Nam and the world," said Mr Dung.
He asked the VOV to pay more attention to improving the quality of its daily broadcasts in order to attract more listeners. As part of its development strategy, the network aims to service the entire country by 2010.