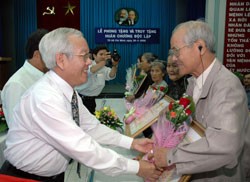 Mr. Le Hoang Quan awards the Independence Medal to the families
Ho Chi Minh City held ceremony of awarding the Independence Medal to 52 families, whose relatives were martyrs to the cause of national liberation and protection, on April 28.
Among those families, nine received the second medals, and 40 received the third ones. Many families have as many as five relatives, husbands and children who sacrificed for the country.
Mr. Le Hoang Quan, Member of the Central Party and Standing Deputy Secretary of the Ho Chi Minh City Party Committee, on behalf of the city's leaders, expressed gratefulness to the martyrs' families and relatives for their sacrifice, loss and contribution to Vietnamese nation's cause of revolution and liberation.
Related article:
Memorial of Viet Nam Mother to be Built