Over the last several days, the Tho Quang Wastewater Treatment Plant has been causing heavy pollution around residential areas in Son Tra District in the central city of Da Nang, making it unbearable for thousands of households to cope with the stinking smell.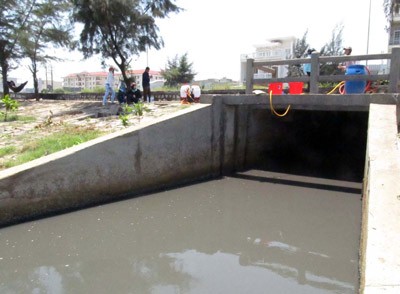 Wastewater from the Tho Quang Wastewater Treatment Plant is polluting residential areas in Son Tra District of Da Nang City (Photo: SGGP)
Although the Drainage and Wastewater Treatment Company in Da Nang City is struggling to reduce pollution levels, it is fighting a losing battle. 
The Tho Quang Wastewater Treatment Plant has been discharging wastewater into the Tho Quang Dock, worsening the already polluted and smelly dock, congested with muck and garbage. The stifling stink is continually plaguing the households living in this area.
Huynh Thi Cuc, 28, who lives 500 metres from the plant, said that many elderly people and children in Nai Hien Dong Ward in Son Tra District are suffering from respiratory diseases after breathing the polluted air.
Explaining the worsening pollution, Nguyen Dieu, director of the Department of Natural Resources and Environment in Da Nang City, said that seafood processing companies in the area have increased their capacity as it is peak fish season in Da Nang. Hence the Tho Quang treatment plant is working on overload and unable to treat the excess wastewater.
Besides, the plant is using an out-of-date biological treatment technology. The chemical treatment technology being applied in Ho Chi Minh City is far better, but at VND71,000 is more expensive per cubic metre than the biological treatment technology which costs only VND6,000 per cubic metre.
Mr. Dieu said the city has approved a project to build a new treatment facility to replace the outdated Tho Quang Plant.
Accordingly, the new plant will be built one kilometre from the current facility, and will be able to treat 10,000 cubic metres of wastewater a day. It is expected to begin construction by the end of April and complete within one year. During this period, the old plant will continue to treat wastewater.
Other than this, the city has permitted two businesses to dredge the muck, mud residue and garbage from the Tho Quang Dock, to help minimise the pollution.