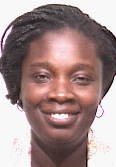 Victoria Kwakwa
The World Bank has announced the appointment of Ms. Victoria Kwakwa as the new Country Director of the World Bank for Vietnam, and she will be taking up her assignment in Hanoi in April.
The Ghanaian national joined the WB in 1989 as a young professional. She has worked as an economist on a number of countries, including Vietnam, Cambodia, and Laos.
Among other assignments, she served as a member of the core team for the 2000 World Development Report on "attacking poverty" and as the World Bank's Lead Economist for Nigeria, based in Abuja.
The WB announcement spelled out Ms. Kwakwa's three top priorities as Country Director for Vietnam. The first is to focus on strategic leadership of the Vietnam program and implementation of the large-scale International Development Association (IDA) program and the transition to the International Bank for Reconstruction and Development (IBRD) including both lending and analytic activities.
The second is to strengthen the dialogue with the Government of Vietnam, as well as to provide active support to the harmonization efforts of the government and the donors.
Her third top priority is to effectively manage the Vietnam Country Office.