"Transparency and openness are key elements of an effective anti-corruption drive. From this perspective, the PMU 18 case is actually encouraging," the WB official told the Viet Nam News Agency on April 4.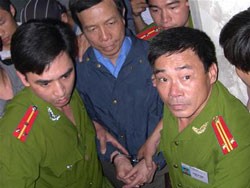 Police officers arrest former Deputy Transport Minister Nguyen Viet Tien
"The Government is taking the case seriously, not hesitating to make those in senior leadership positions responsible for the wrongdoings in the units they were supposed to oversee," Rohland said, highlighting the role of media in uncovering the corruption case and giving it a high visibility.
He also talked of the fact that "the PMU 18 case raised concern among donors" of the real possibility that millions of dollars in development aid was misused and that "the donor community is keen to see this case investigated in detail and the wrongdoings redressed."
"There is something reassuring in this case about the role of the media and the determination of the Government," Rohland emphassed, noting the effective execution of the provisions of the Law on Corruption regarding the declaration of assets of civil servants and their families as a help to bring to light corrupt behavior such as that in PMU 18.
He also said, "An investigative press, committed to the cause of public integrity, is an equally important tool in the fight against corruption. And it can uncover what even the best procedures for procurement and financial management might miss at times, as they probably did in this opportunity."
"Seen in this light, the case of PMU 18 could end up increasing the level of confidence of both donors and foreign investors," he said in conclusion.
Source: VNA