Fresh air and mild temperatures, trademark features of the highland city of Da Lat, are gradually disappearing, said an official with the Lam Dong Meteorology and Hydrology Center.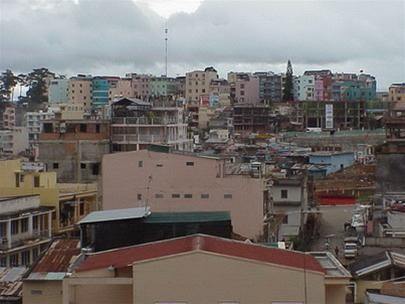 Too much construction results in Da Lat's hot climate
The temperature in Da Lat is becoming hotter and hotter, the center's Deputy Director of Engineering, Mai Quoc Viet said. Average temperatures in the region have risen from 8-10oC to 12-15oC.
It's becoming increasingly uncommon to see local residents wearing warm clothes, let alone sweaters. 
The older generation is complaining about the hot weather, saying that they no longer view Da Lat as a land of mild weather.
Mrs. Hai Mai, a street vendor at Xuan Huong Lake, remarked that women there wear face masks in the streets - a rare sight even five years ago.
63 year-old Pham Van Ut, who was born in Da Lat, said that fog used to lay over the city at 8:00 a.m. and 2:00 p.m. in the 1990s and young people always bathed using hot water at that time. 
However, he added that his children and grandchildren don't use hot water any more.
Mr. Hai Phuc is seeing the effect that warmer temperatures are having on the environment - strange diseases on trees, non-native species of animals and insects establishing themselves and the appearance of tropical trees like papaws, jackfruits, and sugar-canes which formerly couldn't grow in Da Lat in, let alone bear fruit as they are now.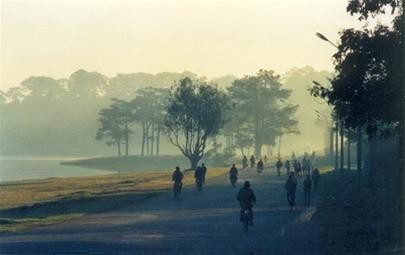 The mist that made Da Lat so picturesque is no more
He also pointed out that a common spring flower, the mai anh dao, used to bloom before the lunar new year but isn't nowadays.
Clear cutting forests and too much construction along with the climatic effects of El Nino are resulting in local climate change, said an official of the Lam Dong Meteorology and Hydrology Center.
 
Many people believe that tourists will stop visiting Da Lat if the weather there continues to get hotter.
It's hoped that city planners will start paying more attention to the environment so that tourism continues to bring revenue into the city.