The United Nations has officially announced the 2006 Dubai International Award for Best Practices to Improve the Living Environment to the inhabitants of the Phu My wetland area of the Mekong Delta for an innovative approach to conservation in the region.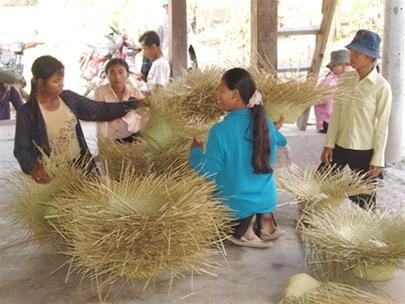 Inhabitants in Phu My wetland make handicrafts from Lepironia grass (Photo: Tuoi Tre) 

The awards are given out for outstanding contributions leading to the improvement of quality of life in cities and communities.

720 submissions were made for the 12 awards, each of which includes a US$ 30,000 prize. The prize money, a trophy and a commemorative certificate will be presented to the winners at an award ceremony in Dubai on March 28.

The Phu My project was implemented in December 2004 and aims at conserving 2,000 hectares of wetland grasses (Lepironia) in the Mekong Delta as well as the traditional handicrafts of Khmer people living in Kien Giang Province's Phu My commune.

The project also provides training courses to local inhabitants to help them market their products more effectively. More than 200 of the 350 households in Phu My took part in the project.