Activities of the labor-export industry in the Mekong Delta are now slowing down while job markets in such countries like Malaysia, Japan and Korea are still open to Vietnamese workers. Why?

Just two years ago, dozens of thousands of employable young people in the Mekong Delta were still eager to go to Malaysia to work. Yet, things are different now. Since the beginning of the year, Dong Thap and Ben Tre have managed to send only 500 workers abroad, each, while the number of workers sent by Kien Giang, Ca Mau and Bac Lieu provinces to foreign countries to work was less than 100 each.

In Can Tho City, since early this year, merely 200 workers have been sent abroad whereas 300 workers including those under employment contracts signed in previous years went back home ahead of schedule.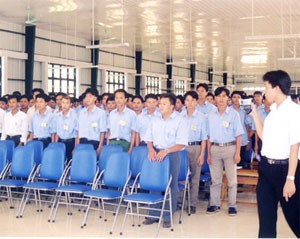 Job seekers are trained under labor-export programs
Explaining the stagnancy in the labor-export market, Bang Son, Director of an employment service center in Dong Thap Province said, " Many job-seekers have slighted Malaysia's job markets, saying salaries are low. They are now looking forward to chances to go work in Japan or Korea."

Nguyen Anh Le, an official of Cai Rang District Department of Labor, War Invalids and Social Welfare attributed the stagnancy to workers' returning home before the termination of their employment contracts. These workers have distorted the truth about their jobs abroad, raising doubts among local people.

Le also stressed that to go abroad to work, a worker has to incur a burden of expenses and a huge deposit in escrow. But when she/he has to return early, labor-export companies won't return his or her deposit, often forcing them to borrow money.

For the above reason, according to Le, many job seekers now no longer view going abroad to work as a good solution for a better life as they may end up in debt instead of making money.

In fact, worker's overdue debts are now a headache to many banks in the Mekong Delta. Municipal authorities of provinces in the Mekong Delta have requested the Social Policy Bank and Bank of Agricultural and Rural Development give loans to job seekers. A number of provinces have also set up exported-worker support funds worth dozens of millions of dollars.

After a long period of giving financial support to job seekers, banks now are failing to recover their debts and some are ceasing to make more of such loans.

Asked about keeping workers' deposits, a number of labor-export companies blamed breaches of contracts on workers' poor qualifications and lack of responsibility.

Bui Xuan Nam, Director of the Southern Labor-Export and Waterway Transportation Co. insisted labor-export companies are also indebted to banks. Nam said, "At the banks' request, we've had to provide a guarantees of 10-20 percent of workers' loans. As a result, our company now faces bed debts of over VND1 billion (US$62,232)."

Labor exports used to bring in dozens of billions of dong to each province in Mekong Delta each year. Vinh Long province used to be able send around 2,000 workers abroad and earn some VND93 billion (US$5.796.920) annually.
However, now that workers in the Mekong are switching from Malaysia to Japan and the Republic of Korea where high incomes averaging US$1,000 a month are easily obtained but where high standards are set, it's time for concerned authorities to come up with suitable training programs.