A program launched by Sai Gon Giai Phong to provide wheelchairs to the disabled has presented 621 wheelchairs worth nearly VND1.7 billion (US$103,000) to low-income disabled persons across the country.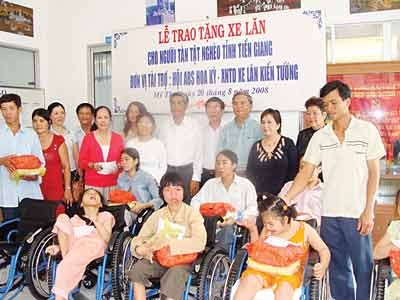 At a ceremony to offer wheelchairs to poor disabled children in the Mekong delta province of Tien Giang
Sai Gon Giai Phong newspaper, Kien Tuong Wheelchair Manufacture, Arthur B. Schultz Foundation, U.S.A and Ha Noi-based Catholic associations have been worked on the program for seven months.
The donors of wheelchairs are Mr. Nguyen Tien Toan, director of Kien Tuong Company the contributions of benefactors like Ms. Ngoc Hue, Ms. Ngan Minh and Ms. Cong Ton Nu Nhu Y.
Traveling widely to distant regions to seek poor disabled residents to help, Ms. Ngan Minh took photos, complete paperwork to report their cases and then sent to the Sai Gon Giai Phong office and Kien Tuong Company for apply for wheelchairs for them.
Ms. Ngoc Hue, Ms. Cong Ton Nu Nhu Y and Ms. Ngan Minh persuaded their relatives and friends contribute blankets, mosquito-nets, milk, and clothes for a trip.
The charity mission team on August 19 gave a wheelchair to Ms. Vo Thi Thuy Nga in the Mekong delta province of An Giang, whose feet are paralyzed. Ms. Nga burst into tears as receiving the gifts from the team as she said that she can walk around without asking anybody for help.
On the way back to the southern province of Tien Giang to offer wheelchairs to resident there, Mr. Nguyen Tien Toan stopped the car to buy a bunch of flowers at Thoai Son market. He congratulated his wife's birthday, saying that the most precious gift is the smiles of underprivileged persons when they received wheelchairs.
On that day, charity missions from the Viet Nam Fatherland Front, Ho Chi Minh City supreme people's procuracy and Cong Ly newspaper joined to hand over a sum of money to needy persons.
Deputy judge Mr. Phan Tanh said that the program is human and socially meaningful because wheelchairs help disabled persons to walk around so they can join daily activities.
On related news, V.N.T joint-stock company's managing director Mr. Nguyen Viet Tao presented VND1.2 billion (US$72,000) to authority of the northern province of Thai Binh.
The local government will spend VND1.1 billion (US$66,000) on building new schools and VND100 million (US$6040) will be spent on scholarships for good, but needy students.