In documents related to the Truong Son trail (also known as the 'Ho Chi Minh trail') and in the memory of Truong Son soldiers, Kon Tum, a province in the Central Highlands, on the border with Laos and Cambodia, is not only the place where two oil pipelines from east and west of Truong Son mountain met, but also the site where the eastern transport route linked with the western.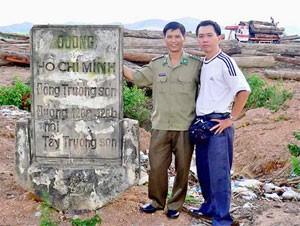 A memorial stone marking the place where the eastern Truong Son road met with the western in Ben Het
But where in Kon Tum is the junction of eastern and western Truong Son? Is it in Ben Het or at Vietnam- Laos- Cambodia T- junction 88?

Last week, SGGP reporters went to Ben Het in Sa Loong Commune, Ngoc Hoi District, on an expedition. Found at the site is a memorial plaque, which reads, "Ho Chi Minh trail, this is place where the eastern Truong Son road links with the western."

Located approximately 10 kilometers from the Vietnam- Laos – Cambodia borders, Ben Het used to be bombed heavily and has been severely affected by Orange Agent. Found in the area are forests with bare trees and bomb craters. There still remains a base camp and field runway for US Special Forces.

We looked at the US's isolated fortification of bunkers and barbed wire emerging from the deserted place and doubted that this was a safe place for North Vietnamese troops to set up bases.

We then found our way to the border post Sa Loong to ask for more information. The border soldiers there told us that they patrolled T- junction 88 and had found a number of guerilla bases. There were wooden huts with thatched roofs, medical stations and even burial grounds in Laos.

Since we wished to talk with some witnesses who lived near the border T- junction during the war, a member of our group, Senior Lt. Col. Nguyen Van Tuong, a former scout officer at one of the border posts in the region, led us to Dac Vang Commune to meet Thao Bun Thon, retired major of the liberation troops. He is now village patriarch of Ca Tu ethnic minority group in the commune.

Thon said, "There was no base of soldiers from the North in Ben Het, as it was an area that suffered from a lot of bombing. The troops built their bases at the T-junction in Laos and Cambodia. At the time, there were a hospital and commo-liaison [they controlled traffic and maintained campsites] station 6 up there."

Thon added that bases built at the T- junction in the land of Cambodia were gathering places for the troops before they went to battlefields in the Central Highlands or in the South. Some units would come, stay for a few days and leave, others then came and took their place.

We met Commander Nguyen Van Yen, deputy head of the Bo Y Border Post, located at Dong Duong T-junction bordering Laos.

Cdr. Yen recalled. "The border post was built in 1984. Due to difficult living conditions at the time, we would follow local people to storehouses at Station 6 to bring back tools and instruments left by the 559 Army Corps."

He said, "To get to Station 6 in Cambodia, we had to walk through Laos. But it is not very far from here, just a few kilometers walk."

Based on the facts collected during our trips to Ben Het and border T- junction 88, we now believe that the memorial plaque marking the place where the eastern Truong Son road links with the western has been put in the wrong place, for it must surely be the border T- junction 88 not Ben Het.

In our opinion, it is necessary for relevant authorities to carry out surveys and checks to determine the appropriate place for the historical site again, and it is not difficult to do so because many Truong Son veterans are still alive.

Important documents related to the building of bases must be in filing cabinets somewhere, simply collecting dust, waiting to be reopened.

Kon Tum Province is now investing tens of billion of US dollars in building the Bo Y economic zone near the Bo Y border gate, about 20 kilometers from the T junction 88 in Cambodia.

If the historical T junction 88 is restored, it will no doubt be a tourist attraction, as from their tourists can easily continue into Laos or Cambodia.