A 52 year old fisherman from Quy Nhon City in the central province of Binh Dinh caught a ferocious white shark on June 12.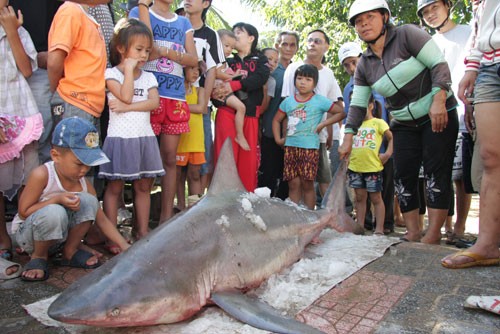 The white shark caught by a Binh Dinh fisherman (Photo: Thanh Nien)
Fisherman Phan Van Dau netted the shark which took him two hours to drag ashore. It measured 1.5 meters in length and weighed around 70 kilograms.
People flocked to the beach to see the shark.
The Vietnam Institute of Oceanography has offered VND15 million (US$714) to buy the fish for research purposes, who say that the fish may have strayed ashore being too weak to stay in the ocean.
Fishermen claim white sharks are more aggressive and violent compared to other sharks. Almost ten people have been reported to be attacked by sharks around the Quy Nhon beach area between July 2009 and June 2010. Fishermen Nguyen Trong captured one shark weighing more than half a ton in February 2010.