The news of the 32 year old Nguyen Thi Anh Dao and her husband in the Mekong Delta province of Tra Vinh won the first jackpot of the 'Mega 6/45' computerized lottery, valued at VND92 billion (US$4 million) yesterday stirred up the public in the province.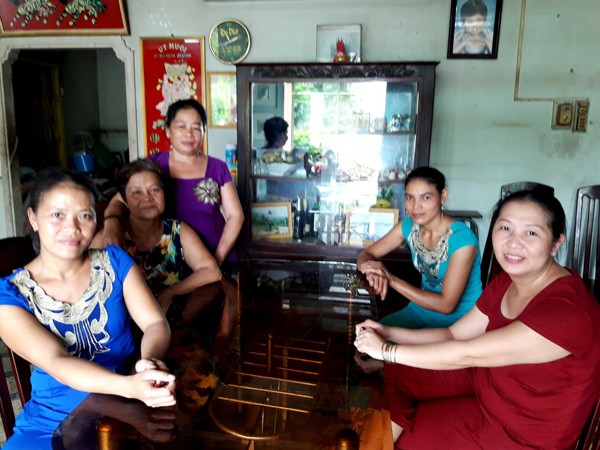 Dao (L, blue) and her relatives in the house (Photo: SGGP)
The lottery's 39th draw on Sunday evening produced lottery jackpot combination of 05-21-31-33-38-42 and found its first winner, according to an announcement by Vietlott, the company that runs the computerized lottery.
As a result, the lottery prize is worth VND92, 030,182,500 (US$4.11 million).
Dao's family did not know about the result until Dao's neighbors came to her house to give congratulations.
Ms. Dao has 14 year old son. She has been a butcher in Chau Thanh District for five years. Dao recalled on October 16, lottery seller Ngoc came to her sibling Thao's restaurant insisting her buying a lottery ticket. Unbelieving in her eye when she collated her lottery ticket with the company's result, her father Nguyen Quoc Thai and her family members arrived in Ho Chi Minh City to get the prize.
Dao received a sum of over VND83 billion (US$3.71 million) after a 10 percent personal income tax deduction as regulated by Vietnam law. Dao said that she is luckier than others; so she decided to offer 400 gifts each including 25 kilogram of rice and VND200,000 to poor people in the province. She will try another business yet she will still maintain her traditional jobs.