The State will provide VND4.7 trillion to support workers in 61 poor districts and labor export companies to find work overseas between 2009 and 2020, said the Ministry of Labor, War Invalids and Social Welfare (MOLISA).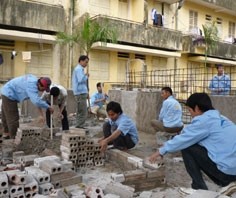 Trainee take part in a course for those who are finding jobs abroad.
A project to support labor export was deployed by the Overseas Labor Management Department on May 13 in Hanoi.
At present, the number of workers overseas from poor districts is still low, around 3,000 people in 2008, according to head of the department, Nguyen Ngoc Quynh.
Mr. Quynh said the project will set a target of sending around 10,000 workers from poor districts in 2009-2010 and more than 70,000 workers between 2016 and 2020.
A pilot project will be carried out in the northern province of Yen Bai and the central provinces of Thanh Hoa and Quang Ngai in 2009 and 2010, Mr. Quynh added.
The project will also support workers with continuing education, vocational training, foreign language courses and other necessary skills to work overseas.
Workers will be able to borrow money from the banks for labor export, at half the current interest rates on offer, to help pay for training.
Mainly poor and ethnic minority workers will be supported with full training costs and foreign language courses to improve their vocational abilities.
The project's target is decrease the number of poor households in 2010 by 19 percent.
According to MOLISA, the rate of poverty in these districts is at least 50 percent, 3.5 times higher than the national average.
During 2006-2007, the number of workers from the 61 poorest districts who found employment overseas stood at approximately 5,000, representing almost three percent of the total number of Vietnamese working overseas.
The 61 poor districts are mainly located in remote and mountainous areas. Of the 2.4 million people living in those areas, only nine percent have a high education standard and ten percent of workers have skilled jobs.