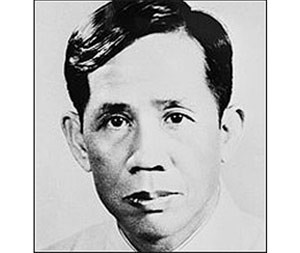 Late Party General Secretary Le Duan
Numerous activities are being organized to celebrate the life and career of Viet Nam's late Communist Party General Secretary, Le Duan on his 100th birthday (April 7), announced the Ministry of Culture and Information.
Speaking at a press briefing yesterday, the Party's Commission for Culture and Ideology said it would cooperate with the provincial People's Committee of Quang Tri to organize a range of works to mark the100th birthday of the late General Secretary, Le Duan.
The results of a writing competition, in which entrants had to write a piece about comrade  Le Duan, will be announced as part of the celebrations. There will also be inauguration ceremonies for several monuments of comrade Le Duan  and a national festival entitled "Singing for the Party's outstanding sons". This year, the Quang Tri province, home of the late Party leader Le Duan, will also mark its 35th anniversary of revolution with many festivities.
A documentary film, detailing the revolutionary life of the late leader throughout the two national resistance wars and the national construction and renovation, was recently produced by the Central Scientific Documentary Film Studio and will be shown on television to mark the late General Secretary's 100th birthday.
The film was based on historical Vietnamese documents, exchanges of information with the UK, France and China, and stories from witnesses and veteran revolutionaries such as former Party General Secretary Do Muoi, former Prime Minister Phan Van Khai and General Vo Nguyen Giap.
The late Party General Secretary Le Duan was born on April 7, 1907 in the central province of Quang Tri. During the revolution and revolutionary war in the south, under the leadership of the Party and the Politburo led by late President Ho Chi Minh, Comrade Le Duan made remarkable contributions by proposing, planning and organizing the implementation of the revolutionary line.