The credit agreement between the State Bank of Viet Nam (SBV) and the World Bank (WB) for US$198 million for three projects in Viet Nam was signed on March 2, 2006 in Ha Noi.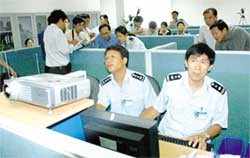 Customs procedures will be modernized with WB loans
The "Customs Modernization" Project has the loan value of over US$ 66 million. This project aims to reform and modernize the customs systems comprehensively, support the implementation of the socio-economic development, economic integration, investment attraction and tourism development. In addition, the project would be a key factor in facilitating Vietnam's accession to the World Trade Organization.
The "Clean Water Supply and Rural Hygiene in Red River Delta" Project with a loan of over US$45.8 million is carried out in four northern provinces of Nam Dinh, Thai Binh, Hai Duong, and Ninh Binh.
The "Natural Disaster Management" Project with a US$ 86 million loan aims to help Viet Nam handle disaster management to protect people and properties in disasters and improve the post-disaster reconstruction effectiveness.