Experts from the world's strongest economies, including the EU and Japan, have voiced renewed levels of confidence in the future of the Vietnamese market, despite the high rate of inflation experienced during the course of this year.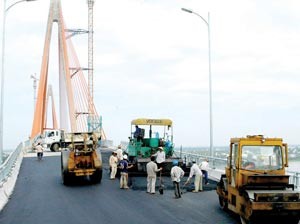 Vietnam is seeking to build more roads and bridges to facilitate economic development (Photo: SGGP)
This optimism was expressed at a business forum that opened in Hanoi on Monday. Minister of Planning and Investment Vo Hong Phuc, World Bank's acting country director Martin Rama and International Finance Corporation's country manager Sin Foong Wong were joined by representatives from 250 businesses, including 150 foreign-invested enterprises.
The forum heard a summary of responses to a study of Vietnam's business environment during 2008. A majority of 254 respondents, of whom 23 percent were foreign investors, gave positive feedback to the study.
A number of respondents said they believed that the national economy would recover from its current difficulties, while they also believed that the business climate would improve. Foreign investors expressed their satisfaction at the increasing levels of parity with domestic competitors.
EuroCham President Alain Cany said foreign investors' confidence in Vietnam's market has increased during 2008, citing strong influxes of indirect foreign investment into the stock market and disbursement of foreign direct investment totaling almost 10 billion USD.
He added that recent inflation drop has validated the Government's financial and monetary policies, which have taken effect during the second quarter of the year.
The European commercial chief also praised the country's success in reducing its trade deficit and ensuring adequate foreign reserves.
EuroCham and its members have a strong belief in Vietnam's potential to become a leading economy in the region and an appealing destination to European investors, Cany said.
He pledged further assistance and cooperation with Vietnam, in the interests of the Southeast Asian economy as well as in Europe's own interests.
A study conducted by the Japan Bank for International Cooperation (JBIC) revealed that Vietnam remained one of the top three markets in terms of Japanese businesses' interest for the third consecutive year. However, the report highlighted a number of areas for improvement.
"A rise in labor costs arouses an emerging concern from Japanese businesses while poor infrastructure, especially land roads, sea ports and electricity supply, causes the most serious problem. Vietnam should further invest in its seaport system," according to the JBIC report.