National Assembly deputies were presented with reports on the performance of President Nguyen Minh Triet, the Government and Prime Minister Nguyen Tan Dung yesterday.
Deputy Nguyen Dang Trung from HCM City highly praised the Prime Minister's term in office from 2007-11, and applauded achievements in foreign affairs and economic growth.
Viet Nam had succeeded in integrating into the world economy and was now recognised as a market economy in 25 countries. Viet Nam had also overcome the economic downturn, slowed inflation and maintained economic growth of 7 per cent annually, Trung said.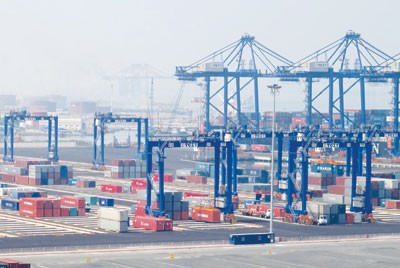 Container activity in Tan Cang-Cai Mep Port in southern Ba Ria-Vung Tau Province indicates trade growth in Viet Nam
Deputies said leaders had managed to lift the country out of poverty, with income per capita reaching US$1,000 per year. More than 8 million jobs had been created and 7.8 million people given training, deputies heard.
They also applauded leaders' efforts to evacuate thousands of guest workers from Lybia.
At the meeting, deputies raised concerns over shortcomings in the legal system, poor training and science-technology development. They also expressed concerns about the country's lack of competitiveness and inadequate infrastructure.
The risk of double-digit inflation would also affect business performance, they said.
Deputies suggested the Government and leaders eliminate subsidies on electricity, coal and energy and ensure inflation was contained.
Training in the judiciary and procuracy was among National Assembly deputies' top concerns as they discussed the performance of the 12th National Assembly in Ha Noi yesterday.
Speaking about the report on the judiciary and procuracy from 2007-11, NA deputies agreed the quality of training should be improved to meet the requirements of judicial reform and international integration.
Deputy Nguyen Hong Son from central Quang Ngai Province said policies governing personnel were too general and failed to attract highly trained individuals, particularly in remote areas.
In addition, recruitment of judges was still problematical, personnel training limited and equipment and facilities backward, the deputies said.
Son said prosecutors often made embarrassing mistakes when re-arguing a case because they had failed to do enough research.
Deputy Tran Viet Hung from northern Hoa Binh Province said regulations should be implemented to minimise corruption and incompetence.
Deputy Tran Ngoc Vinh from northern Hai Phong City said the procuracy should ensure that crimes did not go unpunished or innocent people were wrongly convicted.
Deputies suggested the National Assembly stipulate stricter punishments for those who made wrongful convictions and that judges be trained to international standards.