The government plans to build Tien Giang Province's Thoi Son Isle, under Rach Mieu Bridge, into an ecological tourism honeypot.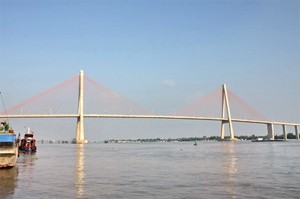 Rach Mieu Bridge is not just expected to facilitate transportation but also economic and tourism development. (Photo: TTO)
Residents on the isle will become hosts and take part in supplying tourist services.
But the project has been brought to a halt because many investors want to occupy the isle to build a luxurious tourist center and move its occupants to a narrow site.
The chairman of Thoi Son Hamlet People's Committee, Nguyen Phuc Dung, said that the income of 6,000 Thoi Son's citizens is mainly derived from longan trees. They have improved their orchards, hoping that they will both make money from harvesting longan and serving tourists.
They will lose their income if they are gathered in a smaller site where each household is expected to be allocated about 300 square meters of land. Current orchards are hectares large.
They do not even dare to hope that they will work for the luxurious tourist area as they do not meet its requirements, Dung said.
"We're longing for the government to implement the project as it has planned so that Thoi Son's citizens will have the chance to catch up with the improvements of the country," he added.
Deputy General Director of Project 7's Management Board, Nguyen Nhu Thao said that the National Road 60, which connects Tien Giang, Ben Tre, Tra Vinh and Soc Trang Provinces, will be completed when the Ham Luong and Co Chien bridges are finished.
The affect of Rach Mieu Bridge on the economic development of Ben Tre, Tra Vinh and Soc Trang will only be seen clearly when the roads are finished.
Ham Luong Bridge is 60 percent completed and will open to traffic in October.
Work on Co Chien Bridge will begin in 2010 and is expected to be finished within two years.