It is important to also carry out some comprehensive solutions : destroy red-eared turtles in the lake to protect the ancient turtle and the ecological system of the lake, check the lake bed and water drainage systems of restaurants located around the lake, collect rubbish, improve water quality, dredge mud and ban people from releasing red-eared turtles to the lake.
That is the content of the resolution issued on Feb 18, by Nguyen The Thao, Chairman of the People's Committee of Hanoi.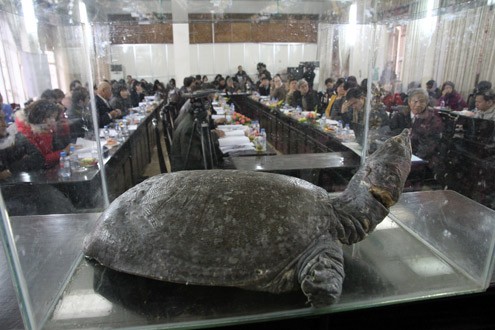 A specimen of a turtle which is said to be the same species with the ancient turtle in the Hoan Kiem Lake. (photo: VNE)
Chairman of the People's Committee of Hanoi orders that the Director of the Hanoi Department of Science and Technology in cooperation with other relevant units and domestic as well as foreign scientists to discuss and take prompt actions to protect and treat the wounds of the legendary turtle before Feb 25.
Since the ancient turtle might suffer new wounds during his moving process and might hit sharp objects under the lake bed and the chafes became serious due to the polluted water, so the optimal solution is improving the water environment of the entire lake. Clean environment will be good for the turtle and the wounds may heal themselves.
After listening to opinions of scientists, the Director of the Hanoi Department of Science and Technology Le Xuan Rao told SGGP reporters that the agency would immediately implement what it can do to protect the turtle, including cleaning the lake bed, improving the water quality, taking up waste water pipes, etc.
He said that the bank of the Turtle Tower in mid-Hoan Kiem Lake will be rebuilt to enable the turtle to climb up and expose himself to the sun. He also said that it is unsuitable to bring him to the shore for treatment at the moment.
Until now, the age and the sex of the old turtle are not defined yet. Most of scientists said that he can't have lived for 700 years (since King Le Loi dynasty, the time the legend about the turtle began) but he must be between 100-300 years old. The lifespand of hard shell turtles is 175. It is unclear for the old turtle in Hoan Kiem Lake, which belongs to soft shell turtle species.