While the Ban Ve rockslide claiming 18 lives in central Viet Nam's Nghe An province is still fresh, another quarry accident occurred yesterday in Ha Tinh province, also in the central region, burying 6 workers. Another died at the hospital.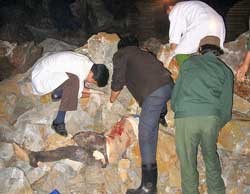 Ms. Le Thi Tuong was pulled out of the rubble at 8pm
At 4:25 pm, the Ru Moc Quarry in Thach Ha district's Thach Ban commune suddenly collapsed, burying six including five women and one man besides seriously injuring two others.
By 9.30 p.m, rescue workers had pulled four bodies out of the rubble. Two still remain buried.
Of the two injured, one died at the hospital and the other is in critical condition.
"We are loading rocks onto carts when a huge stone block some 20 meters above rolled down on us. It was too quick to do anything", quarry worker Nguyen Van Nam told Sai Gon Giai Phong.
Deputy chairman of the provincial People's Committee Vo Kim Cu said local government will donate VND3 million (US$187.5) to each family of the deceased and VND1 million to family of the injured. The Thach Ha district will contribute another VND2 million and VND500,000 respectively.
Authorities are investigating into the cause of the accident.
On December 15, 18 workers were killed in a serious rockslide while quarrying stone for the construction of a hydro-electric plant in Nghe An. By yesterday, two bodies still remain buried under several meters of rock and soil.