In an effort to curb delayed and failed construction inhibiting land use and development, Viet Nam's Ministry of Natural Resources and Environment has asked local authorities to report suspended zoning projects by September 25, Deputy Minister Dang Hung Vo said.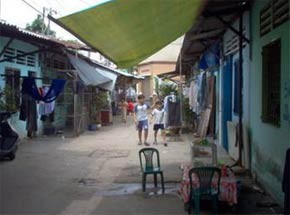 A neighborhood under 'suspending zoning' in Ho Chi Minh City (Photo: Tuoi Tre)
The ministry has ordered the scrutiny of land use nationwide to resolve problems in 'suspended zoning', which is used to describe an urban residential area where zoning is already done but construction is delayed or cannot be done.
To make double sure that problems are detected, Mr. Vo told Sai Gon Giai Phong newspaper that his ministry will also send five inspection teams more than a dozen localities where problems are most serious. A standby inspection team will also be set up for immediate assistance when such problems are discovered.
"We won't provide inspection schedules to the public…However, the public can join the suspending zoning forum on the ministry's website to provide information, discuss the reforms and propose solutions. A hotline for these problems is also operating at (04) 8357 890."
He added that the inspection teams will begin working in early September for about one week in each province. They plan to go to Ho Chi Minh City, Binh Duong, Long An, Can Tho and other southern areas.
"Then, the ministry will make an overall report to the Prime Minister by October 31," said Mr. Vo.
Provinces will have to report suspending projects in detail, with a specific explanation as to why they are 'suspended' including solutions and deadlines for each case.