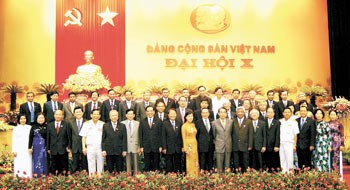 (Photo: SGGP)
In the morning, delegates discussed main issues in the Congress documents. Important contents included the review of 20 years of renovation and the tasks and targets for the 2006-2010 period, industrialization and modernization, social issues, education and training, science and technology, human resource development, national defense and security, foreign affairs and integration into the world economy, solidarity of the peoples in Viet Nam, how to practice democracy and strengthen the State by law.
Discussions were also placed on how to develop the Party, explanations about the Party, and whether Party members can run their own business. Then, the delegates came up with suggestions for draft rules for the election of the tenth-tenure Central Executive Committee.
Delegates delivered speeches on different issues in the afternoon. Mr. Nguyen Van Sau, a representative of central ideology agencies, delivered a speech on building socialism in Viet Nam.
Mr. Phung Huu Phu from Ha Noi gave his speech about personnel issues. Ms. Cu Thi Hau, a representative of central agencies for public propaganda, delivered her speech on the role of the working class and labor unions in industrialization and modernization.
Mr. Hua Ngoc Thuan from Ho Chi Minh City gave a speech about integration and accelerating the country's development. Mr. Pham The Duyet, President of the Viet Nam Fatherland Front Central Committee, made a presentation on promoting solidarity among the peoples.
Foreign Minister Nguyen Di Nien delivered his speech on foreign affairs. Mr. Phung Quang Thanh from the military delegation gave his speech on building the armed forces and national defense based on the people.
Mr. Do Quang Trung from Quang Ninh Province made his presentation on administrative reform. Nie Thuat from Dak Lak Province delivered a speech on solidarities of the peoples. Mr. Vu Ngoc Ku, a representative of central agencies for public propaganda, gave his speech on industrializing and modernizing rural areas and the agricultural sector.
Also in the afternoon, Deputy Minister of Planning and Investment Tran Dinh Khien chaired a press conference about Viet Nam's socio-economic development over the past 20 years of renovation and plans for the 2006-2010 period. Mr. Khien answered Vietnamese and foreign reporters' questions about related issues.
On the third day of the Congress on April 20, delegates are discussing the Congress documents and making suggestions for issues in the documents requiring a vote.
Following are five major achievements of Viet Nam over 20 years of renovation from 1986 to 2006.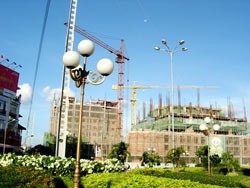 More buildings are constructed after 20 years of reform. (Photo: T.C)
1. Viet Nam escaped economic crises, achieved high growth rates and paved the way for a new development period. 
After the five-year plan for 1986-1990, the renovation process registered initial important achievements. GDP grew by 4.4% a year. Initial successes were also reported from three national programs namely promoting production of food and foodstuff; consumer goods; and exports.
A major achievement between 1986 and 1990 was the shift from a planned economy to a new model that liberated working forces.
Between 1991 and 1995, Viet Nam continually recorded high economic growth rates. Viet Nam achieved main targets and the GDP in these five years grew by 8.2% a year, higher than expected.
The 1996-2000 period was set to be a very important step for a new development stage – industrialization and modernization.
From 2001 to 2005, the economy kept growing fast in a positive manner: the next year better than the previous year. GDP in the period increased by 7.5% on average, beating the target.
2. Viet Nam paved the way to boost socio-economic development in industrialization and modernization.
The account balance became positive. Savings increased to ensure investment for development of the country and to improve living conditions for the people.
Infrastructure was improved, notably in traveling, telecoms, power, irrigation, to facilitate economic development and living conditions.
Education and training, science and technology developed fairly well.
A socialism-oriented market economy came into being. A legal system, policies, rules and regulations for this economy were also in place.
3. Viet Nam promoted shifts in the economic pattern to enhance possibility of industries, localities, economic sectors in industrialization and modernization.
The structure of the economy saw positive changes in favor of industrialization and modernization. Comparative advantages were made use of in each sector and locality to enhance development.
Different areas used their comparative advantages for development. Economic zones began to play important roles.
The proportion of laborers in agriculture has gradually decreased and those in industry and service increased.
The State economic sector was re-organized. The other sectors – including private, foreign-invested sectors and cooperatives – boosted their capacities.
4. Foreign trade also developed, facilitating Viet Nam's integration to the region and the world.
Export markets were expanded. Viet Nam joined ASEAN, the ASEAN Free Trade Area, the Asia-Pacific Economic Cooperation (APEC) forum, normalized relations with the US, signed a bilateral trade agreement with the US, and negotiated to join the World Trade Organization.
Export revenues increased fast. The average annual rate in the 1991-1995 was 17.8%, 21% (1996-2000), 17.5% (2001-2005). Per capita export revenue increased from US$36.3 in 1990 to US$390 in 2005.
5. Viet Nam obtained major achievements in solving social issues and reducing poverty.
The poverty rate in population was 7% by the end of 2005.
The human development index increased continually. The average living age of people was 71.3, the child malnutrition rate reduced by 25% in 2005.
Cultural and information activities were diversified and helped improve the people's cultural life.