Ho Chi Minh City delegation to the 10th National Party Congress recently paid a visit to the Sai Gon Giai Phong (SGGP) Newspaper representative office in the capital city of Ha Noi on April 22, 2006.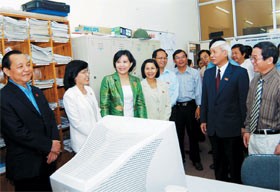 Ho Chi Minh City Delegation to the Congress are welcomed at the SGGP Newspaper representative office in Ha Noi.
On behalf of the Sai Gon Giai Phong newspaper's staff, Editor-in-Chief Duong Trong Dat welcomed the delegation and briefed on the newspaper's forming and developing progress as well as the major missions of its representative office to be accomplished in future.
Mr. Duong Trong Dat also thanked Ho Chi Minh City's Party Committee, the city's People's Committee for their directions and assistance over the past years.
Visitors expressed their pleasure at the paper's successes and wished for its strong development in future.
"I hope that the SGGP newspaper will continue to develop into a stronger newspaper, which will be able to impart more meaningful and interesting information and achieve a continuous business success", said Ms. Pham Phuong Thao, Chairwoman of Ho Chi Minh City's People's Council.
Chairman of Ho Chi Minh City People's Committee Le Thanh Hai also promised that the city will offer more support for the newspaper.
Talking about the newspapers' reports on the 10th National Party Congress, Mr. Pham Xuan Bien, Head of Department of Ideology and Culture of the Ho Chi Minh City's Party Committee, expressed his satisfaction with the profound, diversified and accurate reported information.
Mr. Bien said the newspaper should continue to maintain its truthfulness in reporting the Congress and it should not merely report on the Congress' activities but also pay more attention to the popularization of the Congress' spirit nationwide.