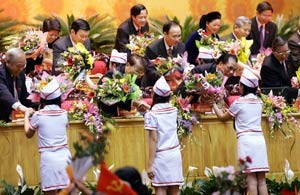 Pioneers offer flowers to members of Politburo of the Party Central Committee during the opening ceremony of Viet Nam's Communist Party's 10th national congress in Hanoi, 18 April 2006.
As many as 35 parties worldwide have sent their messages of greetings to the 10th National Congress of the Communist Party of Viet Nam which opened in Ha Noi on April 18.
The congratulators include the Lao People's Revolutionary Party, the Communist Party of China, the Cambodian People's Party, the Communist Party of Cuba and the Korean Workers' Party.
Other communist and fraternal parties sending messages are the Communist Parties of Japan, the United States, Spain, India, Russia, Sri Lanka, Bangladesh, Australia, Chile, and Norway; the Workers' Parties of Hungary, Belgium, and Bangladesh; the Left Party and the Social Democratic Party of Germany, the United Russia Party, the Bulgarian Socialist Party, the Mongolian People's Revolutionary Party, and the Uri Party of the Republic of Korea.
The National Liberation Front of Algeria, the Democratic Front for the Liberation of Palestine and the Palestinian Liberation Organisation (PLO) also saluted the opening of the 10th Party Congress.
Source: VNA