The Communist Party of Viet Nam's draft political report for the 10th National Party Congress appeared on media in early February 2006. The Sai Gon Giai Phong newspaper has received many suggestions for the report from the public.
The public have shown both agreements and disagreements with points of the report, but all expressed strong willingness to contribute to the national development. Those who have made suggestions include Party members and non-Party members. They are at different ages and have different jobs.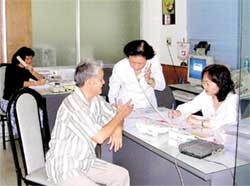 A Sai Gon Giai Phong reader (L, front) tells the newspaper's representatives his ideas (Photo: SGGP)
Pensioner Nguyen Duc Trung, who used to be a soldier executing suicide missions and is living in Ho Chi Minh City, wrote in his letter that his suggestions aimed to strengthen the Party. The 80-year-old Party member wrote that Party Congress must select the best persons as Party leaders.

Ms. Nguyen Thu An, 36, a Japanese of Vietnamese origin, did not have much time during her visit to Ho Chi Minh City but spent her time with the Sai Gon Giai Phong to show her concerns about corruption by some Government officials.

Many among Sai Gon Giai Phong readers have shown their viewpoints about whether the Party allows its members to do their own business. Tran Xuan Linh from Ho Chi Minh City said, "The Party cannot ban this because the ban is not in line with Viet Nam's doi moi (reform) policies."

Mr. Dong Ba Quach, also in Ho Chi Minh City, wrote in his letter: "I agree with ideas that Party members should be allowed to do their own business." He noted that when doing their own business, Party members must observe the Vietnamese law.

Like him, Mr. Trinh Huong, also from Ho Chi Minh City, said his viewpoint is that a Party member doing his or her own business subject to the law is a good Party member. On the contrary, he or she must be expelled from the Party.

Other readers are concerned about problems arisen when Party members do their own business. Mr. Do Xuan May from the Propaganda and Education Board of Sa Dec Town, Dong Thap Province, worries that if there are no limits on the size of businesses owned by Party members, there may be some disputes between employers and employees when employers want to maximize profit.
But Mr. Huy Tu in Ho Chi Minh City said he does not agree that Party members can do their own business.

Trust still placed in socialism and communist ideology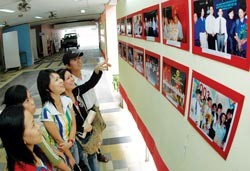 Young people learn about the Party's History
Mr. Nguyen Van Thai, 79, a Ho Chi Minh City resident, said under the leadership of the Communist Party of Viet Nam, the Vietnamese people have made many victories. Therefore, under any circumstances, the majority of Vietnamese have trust in and support the Party. There is a lack of trust because of corruption and wrongdoings by a group of Party members.

Mr. Thai said he rejects an idea that Viet Nam's education system was not good in the past. His opinion is "the system, from universal education to higher education, has contributed to creating a generation of good citizens who have built and protected the father land. My children, aged 40 to 50 now, were educated in the past and have achieved success in their lives. They have also acquired a firm ideology."

Ms. Nguyen Ngoc Tuyet Lan from Ho Chi Minh City shared her views that a society where all people want to live with a better life will certainly lead to a rapid and stable development. It is necessary to unite all people in the society to create prosperity for the country. History has proved that achievements by the Vietnamese people in the past years resulted from the Vietnamese people's spiritual strength.

A huge political campaign

A huge political campaign has arisen in the public since the Party's draft political report was publicized. The Sai Gon Giai Phong Newspaper has received many ideas from the public via normal mail, e-mail, telephone and fax, etc.

Mr. Le Van Chieu in Long An Province remarked: "The fact that the draft political report for the National Party Congress was publicized is a breakthrough on the way to practice democracy. It proves that the Party has trust in the people…"

Mr. Trinh Huong from Ho Chi Minh City sent up to five suggestion letters. Meanwhile, To Buu Giam sent his second letter to replace his first, saying he made supplementations to his first letter.

Other people both sent letters and made phone calls. For example, lawyer Pham The Vinh made a phone call late at night to add some details to his letter.

A retired person wrote a handwritten letter one day, and sent a typed one the next day with a message, "I don't know how to use a computer because I am old. But I told my grandchild to go outside to get my letter typed so that the it is clean and easy to read. I'm attaching the soft copy in a floppy disk for your convenience."

Dr. Trinh Minh Tranh from Gia Dinh Hospital in Ho Chi Minh City said, "I intended to send my suggestion letter last week but I was too busy to revise it. I know March 3 is the deadline to send suggestion letters and though the deadline has passed I still send my letter because I think it is never too late for the people to make constructive suggestions to the Party."
The most impressive letter is a book by Do Huy Dang, 77, from Vung Tau City. The hand-made book has 60 A4 pages. The front cover is well decorated with both the Viet Nam and the Party flags, together with a call for the whole country and all Vietnamese people to make more achievements to celebrate the 10th National Congress Party. The author spent lot of time and energy on the book.

The book includes the author's suggestions, poems to illustrate the suggestions and press cuttings about how to strengthen the Party. The book also includes valuable documents on Vietnamese leaders like Mr. Pham Van Dong, Mr. Nguyen Van Linh, Mr. Vo Chi Cong and Mr. Vo Van Kiet.

Other readers attached their suggestions with letters showing their interest to the upcoming Party Congress.

With readers' letters, the Sai Gon Giai Phong Newspaper knows that the Vietnamese people desire further development of the Party.
All suggestions for the Party Congress' draft political report are making contributions to the official political report.