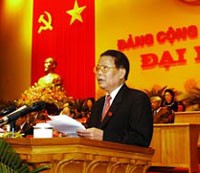 President Tran Duc Luong delivers the opening speech
Mr. Tran Duc Luong, Viet Nam's President and Politburo member, delivered the opening speech at the opening session of the 10th National Party Congress, which took place at Ba Dinh Hall in Ha Noi on April 18, 2006.
The President said the Congress welcomes and appreciates valuable contributions to the Congress' documents by individuals and organizations, Vietnamese, overseas Vietnamese and international friends.
"The documents at the Congress today are really a combination of intelligence and creativeness of the entire Party, the Vietnamese people and the army," he said.
Mr. Luong said the Congress takes place in a historically important period when Viet Nam has experienced 20 years of renovation. Viet Nam finished five years' accomplishments of the Resolution of the Ninth Party Congress.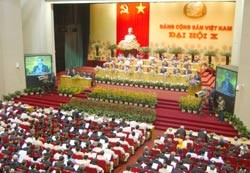 The 10th National Party Congress opens in Ha Noi on April 18
"During the past five years, besides the basic advantages, our country has encountered not a few difficulties and challenges due to complicated developments across the world, inborn weaknesses common to low-level economies; natural disasters, epidemics and subjective weaknesses in organization and management. In this context, our entire Party, people and armed forces have tried their best to implement the Resolution of the Ninth Congress, and attained very important achievements. An overview of the 20 years of renovation reveals our great and historic achievements that have resulted in a basic and comprehensive change for our country, raising Viet Nam's profile and international prestige much more across the world."
"In the coming years, the world will see many complicated and rapid developments, hard to be anticipated. Our common cause for building and protecting our country has advantages and opportunities to get ahead, but will also face difficulties and challenges," Mr. Luong said.
Based on facts, the Congress is responsible to point out achievements and weaknesses, and draw lessons through the execution of the Ninth Congress's Resolution, the 2001-2005 socio-economic development plan, and the 2001-2010 socio-economic development strategy, and a review of 20 years' renovation, from which the Congress develops and perfects the policy, viewpoints, sets the directions, objectives and tasks for the country's development in the next five years, as well as the direction and tasks in building the Party, he said.
The Congress will increase the Party's leadership and combativeness, amend some details of the Party's Charter, elect the member of the Party's Central Executive Committee, the President said.
He added that the 10th National Party Congress holds up strong determination of Viet Nam to soon escape the status of a less developed country, becoming a modern industrialized country.
"We are determined to do our best to increase the Party's leadership and fighting capacity, promote the strength of the whole nation, comprehensively accelerate the renovation process, carry out the target of 'rich people, strong country, fair, democratic and civilized society', firmly getting ahead to socialism and matching with advanced countries in the world."