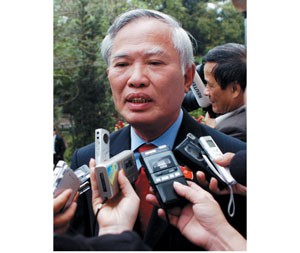 Deputy PM Vu Khoan answers questions from press
On April 20, on the sidelines of the 10th National Party Congress, Deputy Prime Minister Vu Khoan answered many media questions about hot problems in Viet Nam now.

About the big corruption scandal at Project Management Unit 18 (PMU18), the Ministry of Transport
Mr. Deputy Prime Minister, the public want to know whether concerned ministries have reported already or not to the Government problems related to PMU18?
Not only reports from ministries. An ad hoc police team is regularly making reports to the Government.
The corruption scandal showed a big gap in economic management. What is the Government's responsibility in the case?
The ministries of Planning and Investment, and Finance have reported to the Government how to improve rules to get rid of the gap. The Government is obviously responsible for the case; we do not evade on responsibility. Since we have not built good rules, now we have to improve them.
The National Assembly supervises and allocates the State budget, so what is the National Assembly's responsibility in the case?
The Government takes responsibility subject to the Government Organizing Law. The National Assembly takes responsibility subject to the Supervision Law. Ministries and other State agencies also take responsibility subject to rules for the ministries. There is also a decree on management of official development assistance (ODA).
Prime Minister Phan Van Khai said when wrongdoings take place, heads of these organizations should resign. So, how about that in this case?
Of course, somebody has to take responsibility.
Many think that strict inspections will find out more corrupt scandals.
Government inspections are taking place now.
Concerning the PMU18 scandal, the Prime Minister suspended Transport Minister Dao Dinh Binh, but later, the PM gave him assignments while the Politburo agreed that Mr. Binh no longer holds his titles within the Party.
Because the situation was very hot those days. But things have to go step by step. In this case, the Prime Minister had to wait for the Politburo's instruction while there must be a top leader for the Ministry of Transport.
About the fact that members of the Party Central Executive Committee and ministers were under the spotlight
Officials who do not work well should be replaced to ensure effective leadership. Is it very difficult to do this now because of the rules?
The report of the 10th Party Congress makes it very clear. A major change is to replace officials, improve the Party's leadership. The Government is the manager while the people are the owners. This 10th tenure will make specific decisions on these rules.
Viet Nam has made great economic achievements, worth to take pride in, over the past 20 years. However, steps to select officials remain unchanged. Is it a reason for poor management?
This is one of important points in this Congress. The steps to select officials will be improved.
In the ninth tenure, more officials administered by the Secretariat were involved in wrongdoings than in previous tenures.
This positive thing means that we have brought all wrongdoers to light. One of the recent achievements was that we have "touched" members of the Party Central Executive Committee and ministers. This is a very good move.
About official development assistance (ODA) capital
Is there anything wrong in managing ODA capital now?
The Ministry of Planning and Investment (MPI) and the Ministry of Finance (MOF) are in charge of managing ODA capital. MPI is responsible for calling ODA into projects and fields, and for allocating the capital, together with managing Viet Nam's responding capital in the projects. MOF is responsible for budget management in general. Meanwhile, ministries and State agencies manage projects in details. Each ministry supervises its projects. There are also other supervisors for each project, but this supervision is poor. I would say that supervision is the worst. Responsibilities are not specified clearly. These two questions must be properly answered.
On average, a Vietnamese has to pay US$37 a year for ODA debts. What is the Government's attitude toward ODA debts?
We have to pay ODA debts. The problem here is to calculate how much to borrow every year, how much to use in balance with budget and export revenues. The National Assembly and the Government are well aware of this. The point here is how to use ODA capital effectively because capital needed for Viet Nam is not enough now. Therefore, we have to borrow more. We have to borrow more to ensure the annual 8% GDP growth rate, because our capital meets just 70% of the demand.
Does the PMU18 scandal discourage investors?
I have seen no signs by now. I have been watching this problem very closely because it is very hot. But I am very happy that the World Bank, Japan, the Asian Development Bank have their adequate assessments. The Japanese people are asking their Government to explain Japan's ODA capital provided for Viet Nam because this ODA came from the Japanese people. Similarly, Viet Nam's National Assembly, Government and people pay close attention to the case.
About the fact that ministries, State agencies manage enterprises
Ministries and State agencies are still managing enterprises despite of many rejections.
Ministries and State agencies don't want that. At Government meetings, ministers have asked to put an end to this but the fact is the Vietnamese economy's root was a planned economy, in which the State economic sector played a key role. Even now, State companies are holding a substantial part of assets. So, who represents the Government in managing these assets? There must be somebody. We say the owners are all the people, so who are all the people? So, this ownership is assigned to ministries and State agencies, which are considered the owners. What we are looking to is to stop their management upon enterprises. All ministerial decrees and rules stipulate that ministries and State agencies represent ownership.
All enterprises, including State-run ones, have to operate under the Enterprise Law. Does that mean administrating agencies are no longer necessary, every enterprise operates by law?
It's true, but a transitional period is needed. Who will manage these State assets without this transition. Management is poor now, but it could be worse without management. The Ministry of Finance has set up an asset managing company and the company will be responsible for managing State assets from ministries, then ministries and State agencies would be probably stop this management.
Given the existing problems in the Vietnamese economy, is it too optimistic to set the target that Viet Nam will soon escape underdevelopment to become a middle-developed country?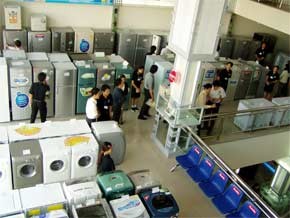 With higher income, Vietnamese spend more for home appliances (Photo: Tuong Thuy)
There are international standards for this. A country is no longer less developed when its per capita income is more or less US$1,000. Viet Nam has reached to US$640. If this increases by 2.1 times in the next five years, our per capital income is over US$1,000. They are careful calculations, not just subjective opinions, so the target is completely realistic.
But the international standard is no longer US$1,000 in the next five years.
It's just our forecast. Now, we must base on the UNDP current standards. Viet Nam is still facing big risks of lagging behind and the target of US$1,000 is not so big. The target is quite different from the goal that Viet Nam would basically become an industrialized country by 2020. The target is a condition for Viet Nam to become an industrialized country.
In investment, the profitability rate in Viet Nam is 5:1, while it is 3:1 in China. Do you think that practicing economy and killing corruption will help boost Viet Nam's GDP growth to two digits?
Yes, I do. The point is your investment must be effective and there is no loss, and you can increase your investment capital. When all these problems are solved, the growth rate may be better.
What do you think about differences between 2006 and 2010?
Per capita income will certainly rise. It is over US$600 now but may be over US$1,000 at that time. There were so many changes between 1995 and now, so will be the next five years.