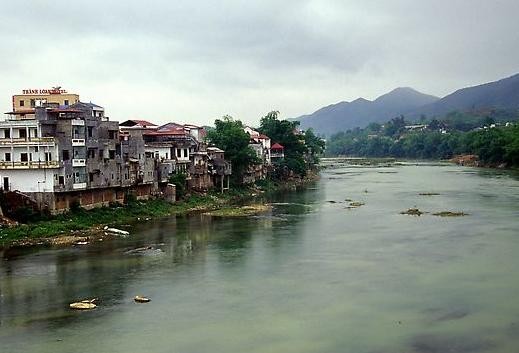 Bang River in dry season
The water level of Bang River in Cao Bang Town increased rapidly with the drawn-out heavy rains on August 5 and 6.
In the evening of August 6, the water level rose 1 meter over the warning level 3 and flooded the town, causing urgent evacuation of hundreds of households in Thau, Nuoc Giap, Cho Xanh Streets and in some areas in Song Hien and Hien Giang Wards overnight.
The water level continued to rise due to the increase of rainfall in the river's upstream. Although there was no loss of human, the flood inundated nearly 600 houses, including 200 in Hoa An District and more than 360 in Cao Bang Town, according to the Cao Bang Province Steering Office for Flood and Storm Control. More than 1,600 hectares of cropland were also inundated. Moreover, the flood brutally blew off a part of Highway 3 connecting Cao Bang Province and Ha Noi, causing serious traffic jams.
The province's authorities are urgently helping residents in flooded areas move to safe places, deploying all available forces to clear the primary routes, as well as providing them with necessities. Locals said that this year's flood is similar to the one in 1986.
Typhoon Prapiroon brought heavy rains in Northern provinces, according to the Central Hydrometeorology Center.