Central provinces are facing unusual dry conditions with scant rain during peak rainy season, a strange phenomenon that has not occurred in the last 30 years, which now is affecting local residents who suffer from bad crops and severe water shortage.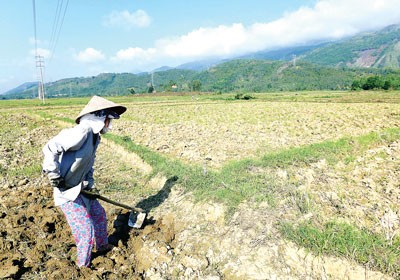 A parched field is unusual in Dai Dong Commune in Dai Loc District of Quang Nam Province (Photo: SGGP)
The last few months should have been the rainy season but the weather has remained dry and scorching in the central region. Several rice fields along Highway 14B from Hoa Vang to Dai Loc Districts in Quang Nam Province are now completely parched.
Sixty-year-old Nguyen Thi Sau lamented that she has never seen such severe drought in the midst of the rainy season in her lifetime. At this time every year, she had to dam the edges of her rice fields to prevent floodwaters from inundating her crops. This year she cannot even till the dry arid land to seed rice. The drought has also created conditions for mice and crickets to flourish and harass farmers.
Rice fields in Dien Ban, Duy Xuyen and Thang Binh are lying parched due to severe water shortage. Vu Gia River, which feeds half of Quang Nam Province, has been depleted.
Other provinces like Thua Thien-Hue, Quang Ngai and Binh Dinh are also threatened with drought and an increase in mice population.
According to the National Hydro Meteorological Forecasting Center, October and November are peak months for the rainy season but this year provinces from Quang Tri to Ninh Thuan saw barely 70-90 percent of expected rainfall.
For the last one week, the Department of Agriculture and Rural Development in Quang Nam Province, has begun implementing measures to deal with the prevailing drought so that farmers can sow the winter-spring rice crop.
Da Nang City is reeling under water shortage for farm irrigation, as well as for daily needs of residents.
Since mid November, the city's largest water plant Cau Do has been hit with salt penetration. The plant has to take water from An Trach Dam, which is ten kilometers away, to ensure water supply to citizens.
Huynh Van Thang, deputy director of the Department of Agriculture and Rural Development in Da Nang City, said that they have closed almost all the sluice gates of An Trach Dam to keep water for Cau Do Plant and pumping stations to serve agricultural needs.
The water level has fallen by 5-6m at Dong Nghe and Hoa Trung, two of the largest reservoirs in the City.
City authorities have instructed hydropower plants in the upper reaches of Vu Gia River like A Vuong and Dak Mi 4, to release water to cope with the drought.
Because water shortage is expected to last while cultivating the winter-spring rice crop, the Department of Agriculture and Rural Development in Da Nang City, has guided farmers to cultivate short term rice varieties and switch to growing other plants which require less water and are sturdier than rice.