Torrential downpours in the last two days have caused traffic snarls in many parts of the central region.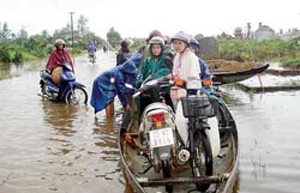 Floods blocked many roads in the central region.
They also saw water levels surge in rivers from Quang Binh to Quang Ngai Provinces.
Two fierce storms caused serious damage to four classrooms, 13 houses and one kindergarten in Thua Thien Hue Province. But no deaths or injuries were reported.
In Quang Nam Province, long-day rains caused landslides. A 60-year-old woman was killed after being swept away by floods in the province's Bac Tra My District. Local authorities gave the victim's family VND 1.5 million and 50 kilograms of rice.
Heavy rains caused landslides, blocking many roads in the province's Tay Giang District and Quang Ngai province's Tay Tra District yesterday.
Floodwaters also washed away a 17-month-old baby in Tu Nghia District Monday.
A section of Ho Chi Minh Road between Kon Tum and Quang Nam Provinces was seriously damaged Monday due to day-long downpours.
The central Hydrometeorology Forecasting Center warned of more heavy rain today in an area stretching from Nghe An to Quang Ngai Provinces.
The National Hydrometeorology Forecasting Center warned, meanwhile, that the mountainous regions in the north are likely to experience heavy rain, flash floods, and landslides in the next few days because of a tropical low pressure system from the Pacific Ocean.
It also forecast a cold front in mountainous provinces this weekend.