The Steering Committee for Natural Disaster Prevention, Research and Rescue of Quang Binh province yesterday reported that heavy rain and cyclone in the central provinces  caused four injured persons and destroyed the local resident's house roofs.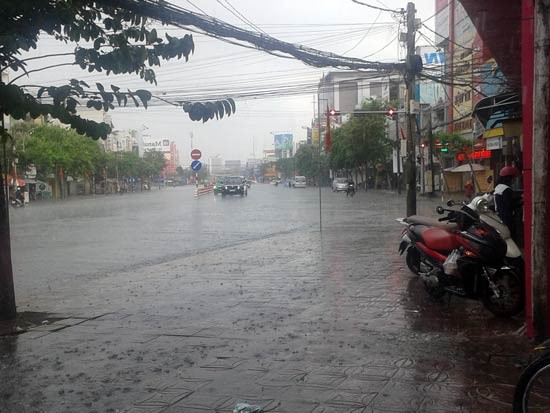 Heavy rains sweept through provinces and cities in the country. (photo: SGGP)

In particular, a five-minute cyclone and heavy rains rapidly swept through Loc Ninh commune in Dong Hoi city,  blowing off 32 roofs of houses and destroyed two stores and 10 tons of fertilizers.

A large quantity of gravel, rock and sand on the surface of the mountain range along National Highway 12A filled on the road, causing interrupted traffic in the area.

The Transport Department of Quang Binh province has quickly maneuvered machines to clean hundreds quantity of gravelly soils to clear road for vehicles across the area.

In Hue city, the long- lasting heavy rains flooded main roads, causing difficult travelling for all vehicles. 

On the same day, the Southern region's Hydrology Meteorology Forecast Center warned that the powerful operation of a low depression trough and the southwest monsoon continues bringing heavy rains in the southeastern and southern regions.

From September 22 to the end of this month, paralleled weather phenomenon of medium- heavy rain, thunderstorm, lighting and powerful wind will be spreading in both the southern region and Ho Chi Minh City in the evening and mid night. 

The disadvantaged weather will also affect all vessels operating in the southern territorial water of East Sea.

In Ho Chi Minh City, flood tide and heavy rain are predicted to occur in several river bank dítricts at 3 pm- 4pm, according to deputy chief of the center Mr. Le Dinh Quyet.

Yesterday, Ministry of Trade and Industry sent a telegram to departments of Trade and Industry from Nghe An to Quang Ngai, Central Highland provinces, Electricity Vietnam (EVN) and hydroelectric plants in the north central and central highlands regions, asking them to well prepare for possible measures against the impact of the weather situation.

The National Steering Committee for Natural Disaster Prevention and Control and the National Committee on Research and Rescue also required the local authorities in the central and central highlands provinces to collaborate closely with relevant agencies in eyeing the next complicated weather situation of flash flood, rain and land slide.