Le Thanh Hai, deputy director of the National Hydro Meteorological Forecasting Center, said the country's weather during the Reunification Day and Labor Day holidays on April 30 and May 1 will remain clear enough for visitors to enjoy the beaches and mountain treks.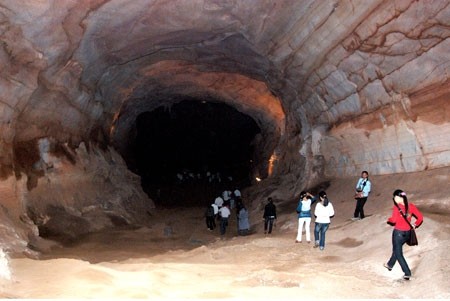 Visitors at Phong Nha Cave in the north central province of Quang Binh (Photo: SGGP)
On April 25, an unseasonal cold front slammed across the northern region bringing strong northeasterly winds out at sea.
The cold front will considerably cool temperatures in the north during this weekend. However, temperatures will once again soar and scorching heat will be back from April 27. From May 1, mercury will fall due to cold front triggered rain.
Central and southern regions will be hot and sunny from April 27 to May 1. Ho Chi Minh City and other southern provinces will see mercury rise to 35-36 degree celsius and afternoons and nighttime will see some showers.
Heavy rain and strong winds had collapsed one house and damaged 19 others in Bat Xat District in the northern province of Lao Cai on morning of April 25.
The national weather bureau said the northern and central regions should watch out for cyclones and hailstorms across several areas.
In related news, most hotels in the central highland city of Da Lat have been fully booked for the coming holidays. Room rates have also suddenly doubled.
Hotel occupancy in Da Lat City can accommodate upto 42,000 tourists a day, which are usually overbooked during most holidays.