A low-pressure front moving from southern China into southern Vietnam caused rainfall in the north and helped cease the prolonged heat wave in the northern and north-central regions, said the National Hydro-Meteorological Forecasting Center.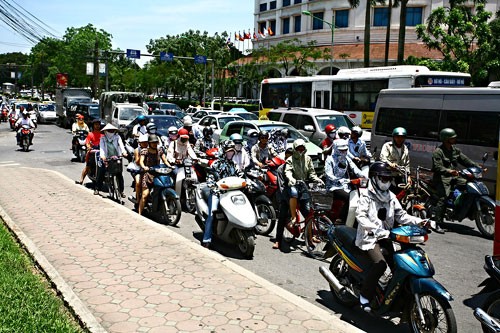 People wait for a green light amidst hot weather in Hanoi. (File photo:VOV)
The low-pressure system will cause more heavy rain in northern mountain areas and northeast regions on June 21, said the center.
The temperature in the central provinces will decrease today due to the weakened foehn (dry wind), said the center.
The center predicted that the heat wave in the northern and central regions would subside during the beginning of the week; however, the hot low-pressure front could return to create a new heat wave by the weekend.
Meanwhile, it is forecasted that the southern provinces and central highlands regions will be affected by a southwest wind that will make for sunshine in the morning and rain in the evening.
Daytime temperatures climbed to as high as 40 degrees Celsius, while night-time temperatures hovered between 29-32 degrees Celsius last week, said the center.
On June 17, the temperature in Hanoi surged to 39.7 degrees, while several provinces in the central region, such as Thanh Hoa and Nghe An, recorded temperatures of 40.3-40.4, the center added.
In related news, Hanoi's fire department said a huge forest fire occurred June 19 at one of Tay Nguyen Company's gum tree hills, in Son Tay town of Ba Vi District, as a result of the prolonged heat wave.
The fire was under control by noontime the day it began, however, the fire reignited around 2 pm.
Firefighters continued battling the blaze under hot conditions. It was 6 pm before the fire was completely stamped out.
The fire destroyed 7 hectares of gum trees, aged from 3-5 years.
This was Hanoi's first recorded fire during the record heat wave last week.