A cold front has moved into northern Vietnam, with temperatures dropping to zero degrees Celsius around Mau Son Mountain of Lang Son Province on Tuesday.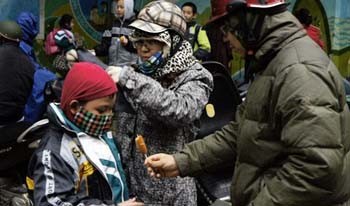 A cold front has moved into northern Vietnam (Photo: VietnamNet)
Mercury plunged to below 10 degrees Celsius in Hanoi and some other provinces in the Red River Delta. 
It was 8.8 degrees in Co To Island in Quang Ninh Province, as well as in Nam Dinh and Hai Duong Provinces.
The worst affected was the mountainous region. Temperatures tumbled to 6 degrees in Lang Son and Son La Provinces and 3.9 degrees in Sa Pa District of Lao Cai Province.
It averaged zero degrees around Mau Son Mountain in Lang Son Province early Tuesday; however the air was dry with no rain, so ice did not occur.
According to the National Hydro Meteorological Forecasting Centre, the cold wave has blanketed the northern region and spread to the northern central region.
From now till the end of March, another two cold fronts are expected to roll into the northern provinces.
Meanwhile, the southern region remains hot during daytime, unseasonal rains will continue in the afternoons, cooling the weather somewhat.