A cold front is set to slam the northern mountainous region by tonight, April 20, bringing with it showers and thunderstorm, said the National Hydro Meteorological Forecasting Centre.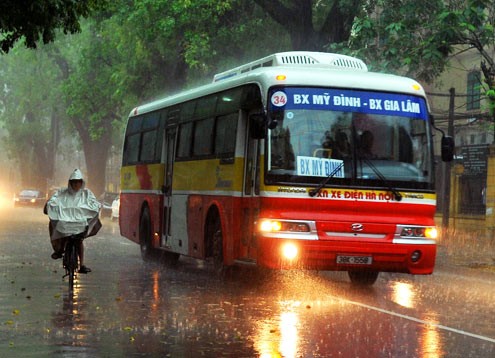 Cold front to bring showers to the northern region from tonight (Photo: Vn Express)
From tonight, it will spread to the Red River Delta and the central northern region and trigger showers and thunderstorms. Strong northeasterly winds will blow along coastal areas.
The cold front will linger for 2-3 days, after which the weather will be sunny again in the northern region.
Meanwhile, hot and muggy conditions will continue to prevail in Ho Chi Minh City and the southeastern region throughout this week. Temperatures might reach 33-36 degrees Celsius, but remain 1-2 degrees milder in the Mekong Delta.
In related news, a tornado hit Ba To District in the central province of Quang Ngai killing one and injuring three others on Thursday afternoon. The tornado and heavy rainfall also collapsed and damaged over 100 homes and one nursery school.