The cold spell lays unabated in the North according to the National Center for Hydro-Meteorological Forecasting as recorded on February 12.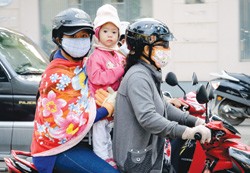 Ho Chi Minh City weather in the next few days will be cold due to a coming cold front from the north (Photo: Thanh Nien)
Temperatures dropped to a low 13 degrees Celsius in many cities and provinces in the North including Hanoi, Thanh Hoa, Hai Phong and Nghe An.
Temperatures in the northern mountainous areas as well as the western areas of Thanh Hoa, Nghe An and Ha Tinh provinces saw temperatures drop to 10 degrees Celsius.
The cold spell also brought in a drizzle and light rainfall in many places. This present weather condition is expected to continue throughout central and southern central areas all through February 13.
Temperatures are also expected to drop in the south of Vietnam in the next two or three days due to the effect of such cold weather conditions in the northern and central regions.
Strong northeasterly winds are expected to blow on February 13, with gust levels topping 8 maximum, in the central and northern off-shore areas.
On February 12, administration officials in central provinces called over 500 boats to go back ashore to avoid the northeasterly winds.
Due to bad weather conditions, the tourist agency Vietravel Nha Trang has called off a collective underwater wedding which is scheduled on Valentine's Day (February 14). The wedding was expected to be organized for nine couples in Nha Trang gulf.