More than 24 hours of torrential rainfall in Phu Quoc Island, from late Saturday night through Sunday, caused severe flooding and marooned several areas of the island off the Mekong Delta province of Kien Giang.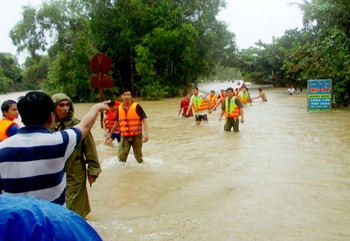 A flooded road in Phu Quoc Island
An entire four kilometer stretch of road was submerged under half a meter of water in Cay Thong Trong Hamlet in Cua Duong Commune, bringing traffic to a standstill. Gardens located along streams were flooded under over one meter of water.

Floodwaters are receding far too slowly in most areas and vegetables crops stand to rot if they stay submerged in water for too long.
Truong Cong Nhiem, an official in the commune said both the Cay Thong Trong and Cay Thong Ngoai hamlets were lying submerged under floodwaters.
 
Ben Tram Hamlet in Duong Dong town was now inaccessible with several poultry still stranded there.
Ngan Van Truyen, chairman of the People's Committee in Cua Can Commune said that in Hamlet 2 and areas along Cua Can River, over 100 volunteers including army soldiers had been mobilized to retrieve residents' belongings from flooded areas.
 
Strong currents under the Ngang Bridge dashed two boats against the bridge, partly collapsing it.
Police and army officials had to use motorboats and row boats to rescue the stranded from submerged areas of Ben Tram Commune.
Most of the flood damage has so far incurred on vegetable crops and poultry.
By late afternoon yesterday, heavy rainfall still fell in most parts of Phu Quoc District and floodwaters continued to rise in some rivers.
In related news, the National Weather Bureau stated that though Typhoon Nanmandol is not likely to move towards the East Sea, its impact will be felt in the northern parts of the Sea.
By 7am this morning, the typhoon was centered along the sea, south of Taiwan at 22.8 degrees north latitude and 120.5 degrees east longitude. The typhoon fury reached level 11 generating winds at 103-117 kilometers an hours.
The storm is expected to move westwards at 10 kilometers per hour towards the straits lying between Taiwan and China by early tomorrow morning. Fierce strong winds have now abated to 89-102 kilometers an hour.
The typhoon has affected most northern parts of the East Sea, with fierce winds of level 8-9 blowing at 62-88 kilometers an hour.