The dry season has only just begun and drought conditions are already beginning to prevail in the Central Highlands where thousands of hectares of crops are suffering from shortage of irrigation water.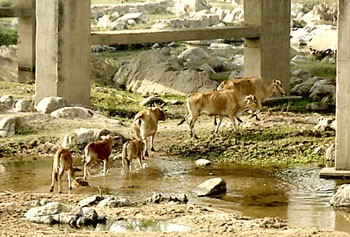 The depleted Ba River in the Central Highlands (Photo: SGGP)
Since the start of the dry season, Sa Thay District in Kon Tum Province had initiated dredging of canals and repair of irrigation works.

However, they seem to be unable to cope with the present drought conditions. Nearly 100 hectares of rice fields are lying vacant or abandoned or being cultivated with fast growing resistible plants.
More areas are expected to be hit by drought as the hot and dry weather intensifies in the coming days.
Adding to the woes, hundreds of local wells are now drying up or seeing the water levels fast depleting. The chairman of Sa Binh Commune People's Committee said that four villages in the commune are facing imminent danger of starvation due to drought.
Similar conditions also occur in Chu Prong, Chu Pah and Chu Puh districts of Gia Lai Province and also in Pleiku town.
Several parts of Chu Prong District have been arid since before the Tet season (Lunar New Year). Over 140 hectares of rice has dried up while another 300 hectares is in danger of suffering the same fate. Such drought conditions have devastated 200 hectares of plants in Chu Puh and Pleiku town.
More worrisome is the fact that Ia Sao Commune in Ia Grai District which is the main coffee producing area in Gia Lai Province and known to have the Bien Ho (Great Lake) as a water source, now has to transport water from elsewhere for irrigation.
Farmer Pham Van Cong laments at what seems to be the worst drought in 30 years. His family is presently hiring trucks to transport water for their coffee fields at a prohibitive rate of VND10 million (US$500) per hectare.
According to the Gia Lai Province Department of Agriculture and Rural Development, at least 1,000 hectares of short-season plants and over 3,000 hectares of coffee fields are severely parched.  This figure is likely to increase as present conditions remain.
Compared to the northern areas, the southern parts of the Central Highlands have no shortage of irrigation water. However, it is forecast that drought could spread to cover thousands of hectares of plants in this region as well.
Nguyen Van Toan, deputy director of the provincial Agriculture and Rural Development stated that by the end of March, Krong No and Cu Jut districts of Dak Nong Province will see about 500 hectares of rice fields without available irrigation water. Over 10,000 hectares of coffee growing areas in Dak Mil and Cu Jut districts will face a similar situation.
The agricultural organizations in Dak Lak Province are greatly concerned that if the drought conditions continue, at least 4,000 hectares of rice crops will be destroyed.
Depleting water sources
Ta Van Luan, director of the management board of Yaly Hydropower Plant in Gia Lai Province said that presently water from the biggest hydropower reservoir in the Central Highlands is flowing at 496 meters, only 6 meters above the danger level and the lowest since the last five decades.
The plant's power output this year for the first six months might drop to about 1 -1.1 billion kWh, compared to 1.8-2 billion kWh in previous years.
In Kon Tum Province, the water level at the Pleikrong hydropower reservoir on the Se San River now supplies only 60 per cent of its capacity as compared to last year.
According to the provincial hydro meteorological center, the water levels of the Dak Bla and Po Ko rivers, which are the main water source of Kon Tum Province, have dropped by 40 percent from previous years. The Serepok River too, running through Dak Lak and Dak Nong provinces, seems to be drying out.
According to the Central Highlands Hydro Meteorological Center, the water levels in rivers like Ba and Se San are flowing 0.4-0.6 meters lower than in previous years.
Weather forecasts for the coming days are bleak with insignificant rainfall and hot and dry conditions spreading across wide areas. This drought clearly might be the most severe ever experienced in recent years.