At present, the coastal provinces in Mekong Delta region are facing dry weather and salt penetration, which has affected to agricultural production and the daily life of local farmers and people, reported the Hydrology Meteorology Forecast Center in southern region.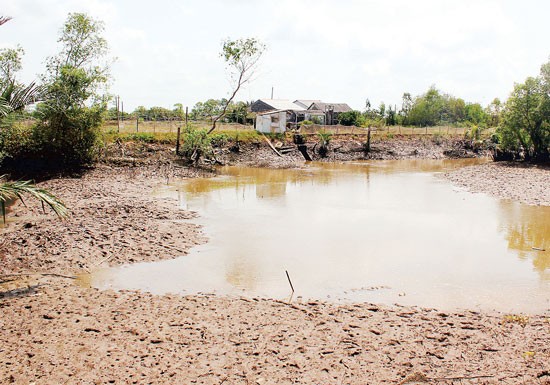 Mekong Delta region has copied with dry weather and salt penetration. (Photo:SGGP)
Because of the influence of high tide flood in the territorial waters from Ca Mau to the Gulf of Thailand, salt penetration has been worst in the southern provinces of Kien Giang, An Giang and Soc Trang.
 
In Ben Tre province, the saline water entered in Ba Tri, Cho Lach and Chau Thanh district as far as 50- 60 kilometers from the large local river mouths like Cua Dai, Ham Luong and Co Phien. The bad situation also has occurred in Tien Giang, Tra Vinh and Soc Trang, which threatened to agricultural production, rice crops and led a shortage of  fresh water. 
In the evening yesterday, the People's Committee of Nam Du island commune Ngo Thi Khoi said that thousands of households are living without fresh water source in the commune during the previous months.
 
In Ben Tre, resident of Giong Trom, Ba Tri and Binh Dai have experienced the same situation. It could said that the intrusion has never been as bad as this year. It have effected seriously to lives and production of localities. 
According to Bui Thanh Liem, head of Cho Lach District's Agriculture and Rural Development said that salt water has encircled rice, flower, vegetable and fruit crops and nearly 10, 000 hectares of seed crops in the district.