Mekong Delta provinces have suffered erosion resizes area of along the Tien and Hau's river branches in recent days.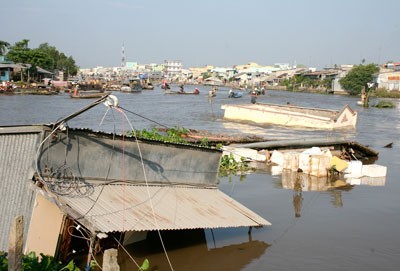 The erosion of sea dyke (Photo:SGGP)
Dong Thap, Hau Giang and Vinh Long have been effected by land erosion.
The latest land erosion occurred in Hau Giang province in end -July, flooded a dyke road with length of 24 meters in Chau Thanh district's Phu An commune and caused interrupting rural road traffic in the area.
The southern of Chau Thanh district's Hau Giang lost about 3,700 square meters of land, damaged of VND 700 million since early this year.
The Hau Giang Province Department of Agriculture and Rural Development said that 100 erosion resizes areas of along local rivers are alerted dangerous including Cai Con, Mai Dam, Cai Dau, Nga Sau, Nang Mao and others.
Currently, local authorities in Dong Thap province have sent urgent announcement for land erosion along rivers to localities, aiming to help them finding solutions to tackle this problem.
Ca Mau province has 48 land erosions, forcasting to be affected heavily due to impact of rising tide.
Recent years, the consultative land erosions have worsened along the Tien and Hau rivers. It have not only threaten to local residents' life but also caused property damage.
To deal with this problem, local authorities have upgraded and constructed dyke systems along rivers.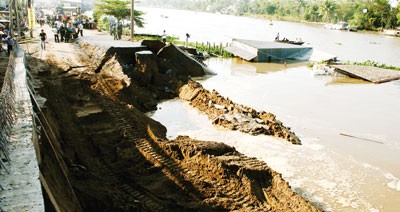 Land erosion caused interrupting rural road traffic (Photo:SGGP)