Climate experts have proposed using text messages to warn people about storms to limit losses.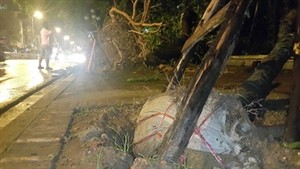 The storm on June 13 uprooted many of the new trees planted in Hanoi, revealing their roots were wrapped in nylon sheets (Photo: anh360.vn)
The proposal followed a storm that occurred at 5pm in Hanoi on June 13, killing two people and felling 1,290 trees.
Le Thanh Hai, Deputy Director of the National Centre for Hydro Meteorological Forecasting, told Tien phong (Vanguard) newspaper that the centre had run warning subtitles on Vietnam Television about the thunderstorm at 4.20pm.
However, many residents said it was not enough.
Tran Manh Cuong, a resident in Hai Ba Trung district, said that at that time he was on the road, so he could not see the subtitles on the TV.
"Why didn't the centre broadcast the warning message on the loudspeaker system for residents and commuters?" said Cuong.
Tran Minh Hoang, another resident in Cau Giay district, said that he had seen the warning subtitles, but it did not include the level of the thunderstorm so he drove anyway.
"It wasn't until I saw a tree uprooted in front of me that I decided to stop and take shelter from the rain," said Hoang.
Pham Van Duc, former Deputy Director of the National Centre for Hydro-Meteorological Forecasting, said that many countries around the world used SMS messages to warn residents before storms hit, and residents would pay for the service.
The service could be applied in Vietnam, he said.
But, short warning message could have errors.
Bui Quoc Viet, Director of the Information and Public Relations Centre under the Vietnam Post and Telecommunications Group (VNPT), said that it was possible to send warning messages to a mass of customers about 1-3 hours before a storm.
VNPT could work with the National Centre for Hydro Meteorological Forecasting to discuss the services.